01.12.2016 | Primary Research | Ausgabe 1/2016 Open Access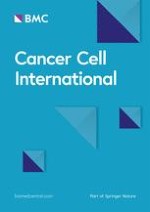 MiR-519d facilitates the progression and metastasis of cervical cancer through direct targeting Smad7
Zeitschrift:
Autoren:

Jue-Yu Zhou, Si-Rong Zheng, Jie Liu, Rong Shi, Hai-Lang Yu, Min Wei
Wichtige Hinweise
Jue-Yu Zhou and Si-Rong Zheng contributed equally to this work
Abstract
Background
MicroRNAs (miRNAs) play pivotal roles in the development of various cancer types, including cervical cancer.
Methods and results
In this study, we showed that miR-519d, a miRNA within the chromosome 19 miRNA cluster, was significantly upregulated in cervical cancer tissues, compared with non-tumorous cervical samples. Suppression of miR-519d markedly attenuated the migration and invasion of HeLa and SiHa cervical cancer cells. Additionally, miR-519d inhibited the apoptosis of cervical cancer cells, and the proliferation of cervical cancer cells was also affected following transfection of miR-519d inhibitor. Moreover, we identified Smad7 to be a novel target of miR-519d in cervical cancer cells. MiR-519d matched the 3′-UTR of Smad7 mRNA. Transfection with miR-519d mimics led to apparent downregulation of Smad7 both at the mRNA and protein levels. Luciferase reporter analysis revealed that miR-519d reduced the luciferase activity of Smad7 mRNA 3′-UTR through matching site-dependent manner. And more notably, suppression of Smad7 remarkably restored the migration and invasion of miR-519d-depleted cervical cancer cells.
Conclusion
Taken together, these findings implicated that miR-519d promoted the progression and metastasis of cervical cancer through targeting Smad7.