01.12.2018 | Primary Research | Ausgabe 1/2018 Open Access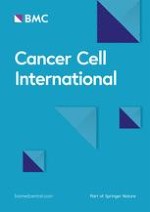 miR-93-5p enhance lacrimal gland adenoid cystic carcinoma cell tumorigenesis by targeting BRMS1L
Zeitschrift:
Autoren:

Jie Hao, Xin Jin, Yan Shi, Hong Zhang
Wichtige Hinweise
Electronic supplementary material
Abstract
Background
Lacrimal adenoid cystic carcinoma (LACC) is one of the most common malignancies that affects lacrimal gland. MicroRNAs are known to play a crucial role as oncogenes or tumor suppressors. Specifically, miR-93 has been reported to play a crucial role in colorectal, breast, pancreatic, lung cancer and hepatocellular carcinoma. However, the role of miR-93 in LACC and the potential molecular mechanisms involved remain unknown. Therefore, we took the challenge to determine the involvement of miR-93 in the LACC by targeting BRMS1L.
Method
A total of 5 adenoid cystic carcinoma (ACC) of lacrimal gland patient tissues and their plasma were examined. Three normal lacrimal glands and three normal serums were collected as a control group. After surgical resection, the specimens were preserved in liquid nitrogen and stored at − 80 °C until RNA extraction. Afterwards, LACC cells with miR-93-5p overexpression were subjected to qRT-PCR and western blot for epithelial–mesenchymal transition (EMT) markers levels. Ability of LACC cell migration, invasion, proliferation and apoptosis was examined by wounded healing, transwell, CCK-8 and apoptosis assays. Afterwards, TargetScan was used to predict putative targets of miR-93-5p. Then, the examination was performed whether miR-93-5p targets BRMS1L by the use of luciferase reporter assays and western blotting. Finally, immunohistochemical staining was sone and all the images were taken using a microscope (Nikon, Tokyo).
Results
Our results showed that miR-93 was overexpressed in tissues and plasma of LACC patients compared to healthy controls. MiR-93 downregulated E-cadherin expression while increasing N-cadherin expression and significantly inhibited luciferase activity. Furthermore, western blotting results confirmed that miR-93-5p could inhibit BRMS1L expression. The BRMS1L staining in LACC tissues was weaker than in normal controls. In addition, miR-93-5p revealed a reverse correlation with the expression of BRMS1L. In addition, significant upregulation of E-cadherin and downregulation of N-cadherin were found when LACC cells were transfected with BRMS1L. Finally, miR-93-5p significantly enhanced TOP/FOP luciferase activity. Upregulation of BRMS1L reduced TOP/FOP luciferase activity while further overexpression of miR-93-5p could not rescue Wnt signaling activity.
Conclusions
Our findings report that miR-93 promotes LACC cell migration, invasion, and proliferation via targeting downregulation of BRMS1L through regulation of Wnt signaling pathway.