12.01.2019 | Original Article | Ausgabe 3/2019 Open Access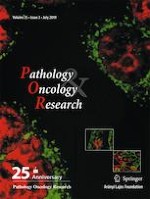 MiRNA-195-5p Functions as a Tumor Suppressor and a Predictive of Poor Prognosis in Non-small Cell Lung Cancer by Directly Targeting CIAPIN1
Zeitschrift:
Autoren:

Jing Zheng, Tingting Xu, Feng Chen, Ying Zhang
Wichtige Hinweise
Publisher's Note
Springer Nature remains neutral with regard to jurisdictional claims in published maps and institutional affiliations.
Abstract
Accumulating evidence suggests that microRNAs (miRNAs) has been proven to be a critical regulator in the tumor progression, of which miR-195-5p was reported to function as tumor suppressor in prostate cancer and oral squamous cell carcinoma. However, studies on the clinical significance and biological function of miR-195-5p in non-small cell lung cancer (NSCLC) were still unavailable. Here, we reported that the expression of miR-195-5p was decreased in NSCLC tissues and cell lines. Downregulation of miR-195-5p was significantly associated with TNM stage, tumor size and lymph node metastasis. The Kaplan-Meier survival analysis demonstrated that the survival time of NSCLC patients with high expression of miR-195-5p was longer than those with low expression during the 5-year follow up period (
p
= 0.0410). COX regression analysis indicated that miR-195-5p expression was an independent prognostic indicator for the survival of NSCLC patients (HR = 2.45, 95% CI: 1.53–4.63;
p
= 0.007). Results of functional analyses revealed that overexpression of miR-195-5p in A549 cells inhibited cell proliferation, induced cell cycle G0/G1 phase arrest and apoptosis using MTT and flow cytometry analysis. Furthermore, bioinformatics and luciferase reporter assays demonstrated that cytokine-induced apoptosis inhibitor 1 (CIAPIN1), an anti-apoptotic molecule was a direct target of miR-195-5p in NSCLC cells. Meta-analysis based on Oncomine database showed CIAPIN1 was significantly up-regulated in human lung cancer tissues. Consistently, knockdown of CIAPIN1 phenocopied the inhibitory effects of miR-195-5p overexpression in NSCLC cell function. These findings suggest that miR-195-5p could be used as a potential prognostic predictor and tumor suppressor in NSCLC.