01.12.2017 | Research | Ausgabe 1/2017 Open Access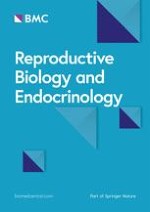 Mitochondrial content, oxidative, and nitrosative stress in human full-term placentas with gestational diabetes mellitus
Zeitschrift:
Autoren:

Joel Ramírez-Emiliano, Martha E. Fajardo-Araujo, Ismael Zúñiga-Trujillo, Victoriano Pérez-Vázquez, Cuauhtémoc Sandoval-Salazar, Jessica K. Órnelas-Vázquez
Abstract
Background
The purpose of this study was to determine the mitochondrial content, and the oxidative and nitrosative stress of the placenta in women with gestational diabetes mellitus (GDM).
Methods
Full-term placentas from GDM and healthy pregnancies were collected following informed consent. The lipid peroxidation (TBARS) and oxidized protein (carbonyls) levels were determined by spectrophotometry, and 3-nitrotyrosine (3-NT), subunit IV of cytochrome oxidase (COX4), adenosine 5′-monophosphate (AMP)–activated protein kinase (AMPK) and actin were determined by western blot, whereas ATPase activity was performed by determining the adenosine triphosphate (ATP) consumption using a High-performance liquid chromatography (HPLC) system.
Results
TBARS and carbonyls levels were lower in the placentas of women with GDM compared with the normal placentas (
p
 < 0.001 and
p
 < 0.05, respectively). Also, 3-NT/actin and AMPK/actin ratios were higher in GDM placentas than in the normal placentas (
p
 = 0.03 and
p
 = 0.012, respectively). Whereas COX4/actin ratio and ATPase activity were similar between GDM placentas and those controls.
Conclusions
These data suggest that placentas with GDM are more protected against oxidative damage, but are more susceptible to nitrosative damage as compared to normal placentas. Moreover, the increased expression levels of AMPK in GDM placentas suggest that AMPK might have a role in maintaining the mitochondrial biogenesis at normal levels.