02.06.2018 | Review | Ausgabe 7/2019 Open Access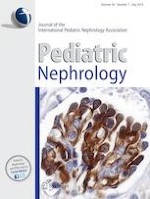 Mitochondrial mechanisms and therapeutics in ischaemia reperfusion injury
Zeitschrift:
Autoren:

Jack L. Martin, Anja V. Gruszczyk, Timothy E. Beach, Michael P. Murphy, Kourosh Saeb-Parsy
Acute kidney injury in paediatric nephrology
Acute kidney injury (AKI) remains a major problem in critically unwell children and young adults and is recognised as a major risk factor for the development of chronic kidney disease [
1
,
2
]. The reported incidence of AKI varies between studies; a consequence in part of different case mix of institutions and variable definitions of AKI. In a multinational study, 26.9% of patients admitted to paediatric intensive care units were observed to have AKI. Importantly, in these children, AKI was an independent risk factor for morbidity and mortality, highlighting the urgent need for the development of effective therapies to prevent and treat AKI [
3
,
4
]. Ischaemia reperfusion (IR) injury is a major contributor to the development of AKI in a significant proportion of children. Mitochondria are increasingly recognised to have a fundamental role in the pathogenesis of IR injury, and with the development of novel mitochondria-targeted therapies, there is increasing interest in the application of such therapies to the management of AKI [
5
].
Ischaemia reperfusion injury and reactive oxygen species
Reperfusion injury is the paradoxical, pathological exacerbation of tissue injury that occurs on re-oxygenation of an organ that has previously been subjected to a period of ischaemia [
6
]. While early research into this process focused on the heart [
7
–
10
], it is now increasingly recognised that the underlying pathophysiological process is common to a wide range of disorders, including AKI, stroke, intestinal ischaemia, multi-organ failure, hypovolaemic shock and organ dysfunction after transplantation [
6
].
It is well recognised that the dominant injurious effector upon reperfusion is an early burst of reactive oxygen species (ROS). Mitochondria are increasingly recognised as the key source of these ROS, through the generation of a burst of superoxide upon reperfusion, and these findings have been corroborated across a range of tissue types, including renal tissue [
11
,
12
]. Whilst there are a number of alternative sources of superoxide, including the xanthine oxidase pathway and NADPH oxidases that are thought to be important in renal IR injury [
13
], activation of these pathways seems to occur after, and be secondary to, the initial mitochondrial burst of superoxide formation [
11
,
14
].
Mitochondrial generation of reactive oxygen species
Reactive oxygen species generation by mitochondria has long been known to occur during both physiological and pathophysiological conditions. However, until recently, superoxide production during reperfusion was presumed to be the result of generalised dysregulation of the electron transport chain, with electrons leaking at multiple non-specific sites when oxygen was re-introduced to a system in biochemical disarray following a period of ischaemia [
11
].
Contrary to this view, Chouchani et al. recently identified a specific metabolic pathway in which superoxide was generated through reverse electron transport at complex I of the electron transport chain. Moreover, this process was shown to be driven by the pool of the citric acid cycle metabolite, succinate, that accumulates during ischaemia (Fig.
1
) [
15
].
×
This burst of mitochondrial superoxide leads to the activation of a plethora of pathways that cause tissue injury. Direct cellular or mitochondrial damage through lipid peroxidation or protein carbonylation results in disruption of adenosine triphospate (ATP) generation, dysregulation of calcium levels and induction of the mitochondrial permeability transition pore (MPTP) with subsequent activation of necrosis and apoptosis. Tissue damage can also occur indirectly through activation of the innate and adaptive immune response by damage-associated molecular patterns (DAMPs). These DAMPs can be cellular (e.g. high mobility group box 1 (HMGB1), hyaluronan [
16
]) or directly mitochondrial in origin. Mitochondrial ROS, generated by IR injury, have been shown to act directly as a DAMP. Furthermore, opening of the MPTP in response to mitochondrial dysfunction releases other mitochondrial DAMPs [
17
,
18
] such as mtDNA, cytochrome
c
, succinate and N-formyl peptides [
19
,
20
]. These processes provide a putative mechanism for the impact of mitochondrial dysfunction on longer-term renal function after an episode of AKI. The identification of a unifying, specific pathway also provides a potential explanation for the vast array of interventions and therapies that have previously been shown to ameliorate IR injury [
11
].
Mitochondrial therapeutic strategies in IR injury
The recent progress in our understanding of the pathophysiological mitochondrial mechanisms that underpin IR injury has led to an array of potential applications of mitochondria as both targets for therapeutic strategies and as biomarkers of disease severity. The therapeutic strategies can be grouped into the following areas and are discussed in more detail below: limiting oxidative stress and mitochondrial ROS generation, reducing tubular cell death through necrosis and apoptosis, moderating mitochondrial dynamics and mitochondrial immunomodulation.
Mitochondrial DNA release as a biomarker of kidney injury
The damage to mitochondria associated with IR injury results in the opening of the MPTP with the consequent release of a number of mitochondrial components into the cytosol. These function as DAMPs, activating an innate immune response and driving the systemic inflammatory response associated with IR injury. mtDNA is an example of such a DAMP (Fig.
3
). A number of studies have examined the role of circulating mtDNA in the blood of patients. The levels of mtDNA have been shown to increase in the circulation following trauma [
18
] and more recently have been shown to correlate with mortality in intensive care unit patients [
62
]. It has also been investigated in the clinical context of severe lung injury and AKI, and shows promise as a potential plasma biomarker [
27
,
62
–
67
]. Increased plasma mtDNA levels can be found in murine models of AKI and have been shown to be linked to an elevated innate immune response via activation of the TLR9 pathway [
68
]. In addition to its detection in the circulation, mtDNA can also be detected in the urine and levels have been shown to be significantly increased in the urine of patients after AKI [
69
–
72
]. The recognition that the kidney has a role in the clearance of DAMPs from plasma and the efficacy of dialysis in decreasing the amount of circulating mtDNA in patients may have future implications for our understanding of the pathogenesis of IR injury in AKI and the role of dialysis in managing IR injury [
73
–
75
].
×
Summary
AKI remains a major problem in children and IR injury is either the primary aetiology or is implicated in a significant proportion of cases. Mitochondrial dysfunction or damage are increasingly recognised as fundamental to IR injury, generating the burst of ROS that initiates downstream tissue injury. They also have key roles in a variety of downstream processes, including the direct activation of the innate immune response, immunomodulation, and apoptosis and necrosis. Plasma and urinary mtDNA may have roles as biomarkers of IR injury in the future and there are a number of therapeutic strategies that are being explored to ameliorate mitochondrial dysfunction. We look forward with interest to the translation of these promising strategies to the management of AKI in children in the future.
Acknowledgements
This work was supported by a grant from the Medical Research Council. The research was supported by the National Institute for Health Research Blood and Transplant Research Unit (NIHR BTRU) in Organ Donation and Transplantation at the University of Cambridge in collaboration with Newcastle University and in partnership with NHS Blood and Transplant (NHSBT). The views expressed are those of the author(s) and not necessarily those of the NHS, the NIHR, the Department of Health or NHSBT.
Compliance with ethical standards
Conflicts of interest
M.P.M. holds patents in the area of mitochondrial therapies and has a financial interest in a company Antipodean Inc. that is commercialising mitochondrial therapies. J.L.M., A.V.G., T.E.B. and K.S.P. have no conflicts of interest.
Open Access
This article is distributed under the terms of the Creative Commons Attribution 4.0 International License (http://creativecommons.org/licenses/by/4.0/), which permits unrestricted use, distribution, and reproduction in any medium, provided you give appropriate credit to the original author(s) and the source, provide a link to the Creative Commons license, and indicate if changes were made.