09.12.2015 | MULTIMEDIA REPORT | Ausgabe 2/2016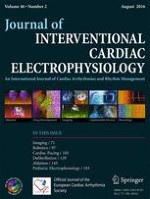 Mobile thrombus on cardiac implantable electronic device leads of patients undergoing cardiac ablation: incidence, management, and outcomes
Autoren:

Alan Sugrue, Christopher V. DeSimone, Charles J. Lenz, Douglas L. Packer, Samuel J. Asirvatham
Wichtige Hinweise
Electronic supplementary material
The online version of this article (doi:
10.​1007/​s10840-015-0085-2
) contains supplementary material, which is available to authorized users.
Abstract
Purpose
The rates of cardiovascular implantable electronic device (CIED) implantations and cardiac ablation procedures are increasing worldwide. To date, the management of CIED lead thrombi in the peri-ablation period remains undefined and key clinical management questions remained unanswered. We sought to describe the clinical course and management strategies of patients with a CIED lead thrombus detected in the peri-ablative setting.
Methods
We performed a retrospective analysis of all patients who underwent a cardiac ablation procedure at Mayo Clinic Rochester from 2000 to 2014. Patients were included in our study cohort if they had documented CIED lead thrombus noted on peri-ablation imaging studies. Electronic medical records were reviewed to determine the overall management strategy, outcomes, and embolic complications in these patients.
Results
Our overall cohort included 1833 patients, with 27 (1.4 %) having both cardiac ablation procedures as well as CIED lead thrombus detected on imaging. Of these 27 patients, 21 were male (77 %), and the mean age was 59.2 years. The mean duration of follow-up was 16.5 months (range 3 days–48.3 months). Anticoagulation was an effective therapeutic strategy, with 11/14 (78.6 %) patients experiencing either resolution of the thrombus or reduction in size on re-imaging. For atrial fibrillation ablation, the most common management strategy was a deferment in ablation with initiation/intensification of anticoagulation medication. For ventricular tachycardia ablations, most procedures involved a modified approach with the use of a retrograde aortic approach to access the left ventricle. No patient had any documented embolic complications.
Conclusions
The incidence of lead thrombi in patients undergoing an ablation was small in our study cohort (1.4 %). Anticoagulation and deferral of ablation represented successful management strategies for atrial fibrillation ablation. For patients undergoing ventricular tachycardia ablation, a modified approach using retrograde aortic access to the ventricle was successful. In patients who are not on warfarin anticoagulation at the time of thrombus detection, we recommend initiation of this medication, with a goal INR of 2–3. For patients on warfarin at the time of thrombus detection, we recommend an intensification of anticoagulation with a goal INR of 3.0.