13.02.2018 | Original Article – Clinical Oncology | Ausgabe 4/2018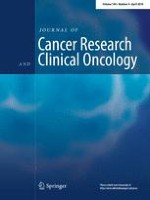 Modern intensity-modulated radiotherapy with image guidance allows low toxicity rates and good local control in chemoradiotherapy for anal cancer patients
Zeitschrift:
Autoren:

Berardino De Bari, Laëtitia Lestrade, Alessandra Franzetti-Pellanda, Raphael Jumeau, Maira Biggiogero, Melpomeni Kountouri, Oscar Matzinger, Raymond Miralbell, Jean Bourhis, Mahmut Ozsahin, Thomas Zilli
Wichtige Hinweise
Berardino De Bari and Laëtitia Lestrade contributed as first authors to this study.
Mahmut Ozsahin and Thomas Zilli contributed as senior authors to this study.
Abstract
Purpose
To report outcomes of a population of anal cancer patients treated with modern intensity-modulated radiotherapy and daily image-guided radiotherapy techniques.
Methods
We analyzed data of 155 patients consecutively treated with intensity-modulated radiotherapy +/− chemotherapy in three radiotherapy departments. One hundred twenty-two patients presented a stage II–IIIA disease. Chemotherapy was administered in 138 patients, mainly using mitomycin C and 5-fluorouracil (
n
 = 81). All patients received 36 Gy (1.8 Gy/fraction) on the pelvic and inguinal nodes, on the rectum, on the mesorectum and on the anal canal, and a sequential boost up to a total dose of 59.4 Gy (1.8 Gy/fraction) on the anal canal and on the nodal gross tumor volumes.
Results
Median follow-up was 38 months (interquartile range 12–51). Toxicity data were available for 143 patients: 22% of them presented a G3+ acute toxicity, mainly as moist desquamation (
n
 = 25 patients) or diarrhea (
n
 = 10). Three patients presented a late grade 3 gastrointestinal toxicity (anal incontinence). No grade 4 acute or late toxicity was recorded. Patients treated with fixed-gantry IMRT delivered with a sliding window technique presented a significantly higher risk of acute grade 3 (or more) toxicity compared to those treated with VMAT or helical tomotherapy (38.5 vs 15.3%,
p
 = 0.049). Actuarial 4-year local control rate was 82% (95% CI 76–91%).
Conclusions
Modern intensity-modulated radiotherapy with daily image-guided radiotherapy is effective and safe in treating anal cancer patients and should be considered the standard of care in this clinical setting.