01.12.2017 | Research article | Ausgabe 1/2017 Open Access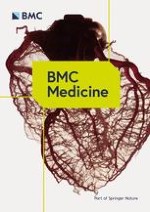 Modest heterologous protection after
Plasmodium falciparum

sporozoite immunization: a double-blind randomized controlled clinical trial
Zeitschrift:
Autoren:

Jona Walk, Isaie J. Reuling, Marije C. Behet, Lisette Meerstein-Kessel, Wouter Graumans, Geert-Jan van Gemert, Rianne Siebelink-Stoter, Marga van de Vegte-Bolmer, Thorsten Janssen, Karina Teelen, Johannes H. W. de Wilt, Quirijn de Mast, André J. van der Ven, Ernest Diez Benavente, Susana Campino, Taane G. Clark, Martijn A. Huynen, Cornelus C. Hermsen, Else M. Bijker, Anja Scholzen, Robert W. Sauerwein
Wichtige Hinweise
Electronic supplementary material
The online version of this article (doi:
10.​1186/​s12916-017-0923-4
) contains supplementary material, which is available to authorized users.
Abstract
Background
A highly efficacious vaccine is needed for malaria control and eradication. Immunization with
Plasmodium falciparum
NF54 parasites under chemoprophylaxis (chemoprophylaxis and sporozoite (CPS)-immunization) induces the most efficient long-lasting protection against a homologous parasite. However, parasite genetic diversity is a major hurdle for protection against heterologous strains.
Methods
We conducted a double-blind, randomized controlled trial in 39 healthy participants of NF54-CPS immunization by bites of 45 NF54-infected (n = 24 volunteers) or uninfected mosquitoes (placebo; n = 15 volunteers) against a controlled human malaria infection with the homologous NF54 or the genetically distinct NF135.C10 and NF166.C8 clones. Cellular and humoral immune assays were performed as well as genetic characterization of the parasite clones.
Results
NF54-CPS immunization induced complete protection in 5/5 volunteers against NF54 challenge infection at 14 weeks post-immunization, but sterilely protected only 2/10 and 1/9 volunteers against NF135.C10 and NF166.C8 challenge infection, respectively. Post-immunization plasma showed a significantly lower capacity to block heterologous parasite development in primary human hepatocytes compared to NF54. Whole genome sequencing showed that NF135.C10 and NF166.C8 have amino acid changes in multiple antigens targeted by CPS-induced antibodies. Volunteers protected against heterologous challenge were among the stronger immune responders to in vitro parasite stimulation.
Conclusions
Although highly protective against homologous parasites, NF54-CPS-induced immunity is less effective against heterologous parasite clones both in vivo and in vitro. Our data indicate that whole sporozoite-based vaccine approaches require more potent immune responses for heterologous protection.
Trial registration
This trial is registered in clinicaltrials.gov, under identifier
NCT02098590
.