01.12.2015 | Research article | Ausgabe 1/2015 Open Access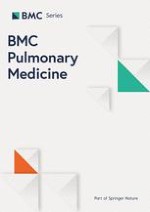 Modification of additive effect between vitamins and ETS on childhood asthma risk according to
GSTP1

polymorphism : a cross -sectional study
Zeitschrift:
Autoren:

So-Yeon Lee, Bong-Seong Kim, Sung-Ok Kwon, Se-Young Oh, Hye Lim Shin, Young-Ho Jung, Eun Lee, Song-I Yang, Hyung Young Kim, Ju-Hee Seo, Hyo-Bin Kim, Ji-Won Kwon, Hae-Ran Lee, Soo-Jong Hong
Wichtige Hinweise
Electronic supplementary material
The online version of this article (doi:
10.​1186/​s12890-015-0093-0
) contains supplementary material, which is available to authorized users.
So-Yeon Lee and Bong-Seong Kim contributed equally to this work.
Competing interests
The authors declare that they have no competing interest.
Authors' contributions
Substantial contributions to conception and design, or acquisition of data, or analysis and interpretation of data; S-Y L, B-S K, S-O K, HL S, HY K, J-H S, H-B K, J-W K, S-J H, H-R L. Involvement in drafting the manuscript or revising it critically for important intellectual content; S-Y L, S-I Y, YH J, E L. Have given final approval of the version to be published; S-Y O, H-R L, S-J H. Agree to be accountable for all aspects of the work in ensuring that questions related to the accuracy or integrity of any part of the work are appropriately investigated and resolved : H-R L, S-J H. All authors read and approved the final manuscript.
Abstract
Background
Asthma is characterized by airway inflammation, and bronchial airways are particularly susceptible to oxidant-induced tissue damage.
Objective
To investigate the effect of dietary antioxidant intake and environmental tobacco smoke (ETS) on the risk of childhood asthma according to genotypes susceptible to airway diseases.
Methods
This cross-sectional study included 1124 elementary school children aged 7–12 years old. Asthma symptoms and smoking history were measured using the International Study of Asthma and Allergies in Childhood (ISAAC) questionnaire. Intake of vitamin A (including retinol and β-carotene), C, and E was measured by a semi-quantitative food frequency questionnaire (FFQ).
GSTP1
polymorphisms were genotyped from peripheral blood samples.
Results
ETS was significantly associated with presence of asthma symptoms (adjusted odds ratio [aOR], 2.48; 95 % confidence interval [CI], 1.29–4.76) and diagnosis (aOR, 1.91; 95 % CI, 1.19–3.06). Dietary antioxidant intake was not associated with asthma symptoms, although ETS plus low vitamin A intake showed a significant positive association with asthma diagnosis (aOR, 2.23; 95 % CI, 1.10–4.54). Children with AA at nucleotide 1695 in
GSTP1
who had been exposed to ETS and a low vitamin A intake have an increased risk of asthma diagnosis (aOR, 4.44; 95 % CI,1.58–12.52) compared with children who had not been exposed to the two risk factors. However, ETS exposure and low vitamin A intake did not significantly increase odds of asthma diagnosis in children with AG or GG genotypes.
Conclusion
Low vitamin A intake and ETS exposure may increase oxidative stress and thereby risk for childhood asthma. These relationships may be modified by gene susceptibility alleles of
GSTP1
.