01.12.2014 | Original Article | Ausgabe 6/2014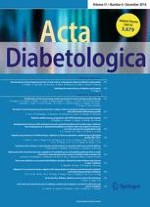 Modifications of the homeostasis model assessment of insulin resistance index with age
Zeitschrift:
Autoren:

Federico Soriguer, Natalia Colomo, Sergio Valdés, Alberto Goday, Elehazara Rubio-Martín, Isabel Esteva, Luis Castaño, María Soledad Ruiz de Adana, Sonsoles Morcillo, Alfonso Calle, Eduardo García-Fuentes, Miguel Catalá, Carolina Gutiérrez-Repiso, Elias Delgado, Ramón Gomis, Emilio Ortega, Gemma Rojo-Martínez
Wichtige Hinweise
Managed by Massimo Porta.
This article was written on behalf of the Di@bet.es study group and the Pizarra study group.
Members of the Di@bet.es study group is given in "
Appendix
" section.
Abstract
The aim of the study was to analyze the association between aging and insulin resistance estimated by the homeostasis model assessment of insulin resistance (HOMA-IR). This work involved two studies: (1) the Di@bet.es study is a cross-sectional study including 4,948 subjects, comprising a representative sample of the adult Spanish population; (2) the Pizarra study is a population-based cohort study undertaken in Pizarra (Spain), in which 1,051 subjects were evaluated at baseline and 714 completed the 6-year follow-up study. Study variables included a clinical and demographic structured survey, a lifestyle survey, a physical examination, and an oral glucose tolerance test in subjects without diabetes. In the Di@bet.es study overall, an increase occurred in blood glucose until the age of 50, after which it remained stable (data adjusted for gender, body mass index, abnormal glucose regulation [AGR]). The HOMA-IR increased significantly with age (
p
= 0.01), due to a higher prevalence of obesity (
p
< 0.0001) and AGR (
p
< 0.001). In non-obese subjects without AGR, HOMA-IR values were not modified with age (
p
= 0.30), but they were with body mass index (
p
< 0.001). In the Pizarra study, the HOMA-IR was significantly lower after 6-year follow-up in the whole study population. Subjects with a HOMA-IR level higher than the 75th percentile at baseline were more likely to develop diabetes (OR 2.2, 95 % CI 1.2–3.9;
p
= 0.007) than subjects with a lower HOMA-IR. We concluded that age per se did not increase HOMA-IR levels, changes that might be related to higher rates of obesity and AGR in older subjects. The HOMA-IR was associated with an increased risk of developing type 2 diabetes 6 years later.