01.12.2018 | Case report | Ausgabe 1/2018 Open Access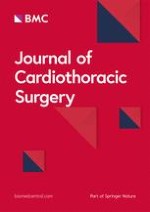 Modified double patch repair with infarct exclusion technique for ventricular septal perforation: a case study
Zeitschrift:
Autoren:

Takuma Yamasaki, Shuhei Fujita, Yuji Kaku, Junko Katagiri, Takeshi Hiramatsu
Abstract
Background
Ventricular septal perforation (VSP) after acute myocardial infarction (AMI) is accompanied by the worsening of rapid hemodynamics, resulting in a poor prognosis. In our department, infarct lesions are preoperatively detected with electrocardiogram (ECG)-synchronized contrast computed tomography, and the scope of approach and exclusion is determined. Furthermore, to effectively prevent a residual shunt, modified double patch repair and infarct exclusion techniques were used in combination to preserve left ventricular (LV) function. This method is reported because it considers both techniques as a surgical procedure that can be accomplished relatively easily and simultaneously.
Case presentation
We targeted two consecutive VSP patients who underwent this procedure. It took an average of 1 day from the onset of VSP to surgery. We performed double patch and infarct exclusion for VSP using bovine pericardium via an LV incision. Two patches were marked with a skin pen to anastomose eight mattresses equally. In addition, a one piece-coupled patch was made for infarct exclusion. The two patients were extubated on the day after surgery and intra-aortic balloon pump assistance was also withdrawn. Without perioperative complications, they could leave the intensive care unit after 6.5 days on average. Early postoperative ECG and magnetic resonance angiography showed good LV wall contraction, except at the infarcted area, with no evidence of a residual shunt.
Conclusion
The modified double patch repair with infarct exclusion technique is more effective for preventing a residual shunt and maintaining postoperative cardiac function than either of the techniques alone.