13.02.2018 | Original Article | Ausgabe 6/2018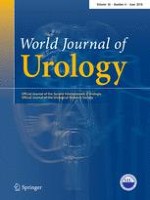 Modified York Mason technique for repair of iatrogenic recto-urinary fistula: 20 years of the Montsouris experience
Zeitschrift:
Autoren:

Sébastien Bergerat, François Rozet, Eric Barret, José Batista da Costa, Adalberto Castro, Paolo Dell'oglio, Marc Galiano, Alexandre Ingels, Rafael Sanchez Salas, Xavier Cathelineau
Abstract
Purpose
Iatrogenic recto-urinary fistulas are a disastrous complication of therapeutic interventions on the prostate. Many surgical approaches have been described to repair recto-urinary fistulas and no consensus has been reached regarding the better approach. The objective of this study is to present the results of our updated 20-year experience in the surgical management of recto-urinary fistula using a modified York Mason procedure.
Methods
We proceed to a retrospective single-institution review of surgically treated patients for iatrogenic recto-urinary fistulas between 1998 and 2017 by the modified York Mason technique. Descriptive analysis of our population was performed. Continuous and categorical variables were compared using Mann–Whitney and Fischer tests, respectively. All tests were two-sided with a significance level set at
p
value < 0.05.
Results
We included 30 consecutive patients treated for iatrogenic recto-urinary fistula. The median follow-up was 76 months (2–195). The median size of the fistula was 5 mm (2–20). Successful healing of the recto-urinary fistula was observed in 80, 97, and 100% of patients after 1, 2, or 3 York Mason procedure. During the study period, no one single case of acquired urinary incontinence or durable fecal incontinence has been observed.
Conclusions
Our modified York Mason technique is a reliable and effective procedure with a 100% success rate for the repair of small iatrogenic recto-urinary fistulas in non-irradiated patients. It has a very low morbidity rate, and no case of postoperative urine or fecal incontinence has been observed.