01.12.2019 | Research | Ausgabe 1/2019 Open Access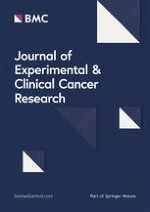 Modulating lncRNA SNHG15/CDK6/miR-627 circuit by palbociclib, overcomes temozolomide resistance and reduces M2-polarization of glioma associated microglia in glioblastoma multiforme
Zeitschrift:
Autoren:

Zhenzhe Li, Jixing Zhang, Hongshan Zheng, Chenlong Li, Jinsheng Xiong, Weiliang Wang, Hongbo Bao, Hua Jin, Peng Liang
Wichtige Hinweise
Electronic supplementary material
Zhenzhe Li and Jixing Zhang contributed equally to this work.
Publisher's Note
Springer Nature remains neutral with regard to jurisdictional claims in published maps and institutional affiliations.
Abstract
Background
Accumulating evidence demonstrates the oncogenic roles of lncRNA (long non-coding RNA) molecules in a wide variety of cancer types including glioma. Equally important, However, tumorigenic functions of lncRNA in glioma remain largely unclear. A recent study suggested lncRNA SNHG15 played a role for regulating angiogenesis in glioma but its role in the tumor microenvironment (TME) was not investigated.
Methods
First, we showed that SNHG15 was upregulated in GBM cells and associated with a poor prognosis for the patients of GBM using public databases. Next, we collected temozolomide sensitive (TMZ-S) and resistant (TMZ-R) clinical samples and demonstrated that co-culturing TMZ-R cells with HMC3 (microglial) cells promoted M2-polarization of HMC3 and the secretion of pro-GBM cytokines TGF-β and IL-6.
Results
Comparative qPCR analysis of TMZ-S and TMZ-R cells showed that a significantly higher level of SNHG15, coincidental with a higher level of Sox2, β-catenin, EGFR, and CDK6 in TMZ-R cells. Subsequently, using bioinformatics tool, a potential mechanistic route for SNHG15 to promote GBM tumorigenesis was by inhibiting tumor suppressor, miR-627-5p which leads to activation of CDK6. Gene-silencing technique was employed to demonstrate that suppression of SNHG15 indeed led to the suppression of GBM tumorigenesis, accompanied by an increase miR-627-5p and decreased its two oncogenic targets, CDK6 and SOX-2. In addition, SNHG15-silenced TMZ-R cells became significantly sensitive towards TMZ treatment and less capable of promoting M2-phenotype in the HMC3 microglial cells. We then evaluated the potential anti-GBM activity of CDK6 inhibitor, palbociclib, using TMZ-R PDX mouse models. Palbociclib treatment significantly reduced tumorigenesis in TMZ-R/HMC3 bearing mice and SNHG15 and CDK6 expression was significantly reduced while miR-627-5p level was increased. Additionally, palbociclib treatment appeared to overcome TMZ resistance as well as reduced M2 markers in HMC3 cells.
Conclusion
Together, we provided evidence supporting the usage of CDK6 inhibitor for TMZ-resistant GBM cases. Further investigation is warranted for the consideration of clinical trials.
Graphical abstract
×