01.12.2018 | Research article | Ausgabe 1/2018 Open Access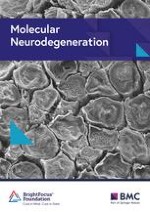 Modulation of GSK-3 provides cellular and functional neuroprotection in the
rd10

mouse model of retinitis pigmentosa
Zeitschrift:
Autoren:

Alonso Sánchez-Cruz, Beatriz Villarejo-Zori, Miguel Marchena, Josefa Zaldivar-Díez, Valle Palomo, Carmen Gil, Ignacio Lizasoain, Pedro de la Villa, Ana Martínez, Enrique J. de la Rosa, Catalina Hernández-Sánchez
Wichtige Hinweise
Electronic supplementary material
Abstract
Background
Retinitis pigmentosa (RP) is a group of hereditary retinal neurodegenerative conditions characterized by primary dysfunction and death of photoreceptor cells, resulting in visual loss and, eventually, blindness. To date, no effective therapies have been transferred to clinic. Given the diverse genetic etiology of RP, targeting common cellular and molecular retinal alterations has emerged as a potential therapeutic strategy.
Methods
Using the
Pde6b
rd10/rd10
mouse model of RP, we investigated the effects of daily intraperitoneal administration of VP3.15, a small-molecule heterocyclic GSK-3 inhibitor. Gene expression was analyzed by quantitative PCR and protein expression and phosphorylation by Western blot. Photoreceptor preservation was evaluated by histological analysis and visual function was assessed by electroretinography.
Results
In
rd10
retinas, increased expression of pro-inflammatory markers and reactive gliosis coincided with the early stages of retinal degeneration. Compared with wild-type controls, GSK-3β expression (mRNA and protein) remained unchanged during the retinal degeneration period. However, levels of GSK-3β
Ser9
and its regulator Akt
Ser473
were increased in
rd10
versus wild-type retinas. In vivo administration of VP3.15 reduced photoreceptor cell loss and preserved visual function. This neuroprotective effect was accompanied by a decrease in the expression of neuroinflammatory markers.
Conclusions
These results provide proof of concept of the therapeutic potential of VP3.15 for the treatment of retinal neurodegenerative conditions in general, and RP in particular.