01.12.2017 | Research article | Ausgabe 1/2017 Open Access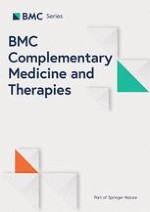 MOK, a pharmacopuncture medicine, regulates thyroid dysfunction in L-thyroxin-induced hyperthyroidism in rats through the regulation of oxidation and the TRPV1 ion channel
Zeitschrift:
Autoren:

Ji Hye Hwang, Seok Yong Kang, An Na Kang, Hyo Won Jung, Chul Jung, Jin-Ho Jeong, Yong-Ki Park
Abstract
Background
In this study, we evaluated the therapeutic effect of MOK, a pharmacopuncture medicine, on thyroid dysfunction in L-thyroxin (LT4)-induced hyperthyroidism rats.
Methods
The experimental hyperthyroidism model was prepared by the intraperitoneal injection of LT4 (0.5 mg/kg) once daily for 2 weeks in SD rats. MOK extract was injected at doses of 0.3 or 3 mg/kg on acupuncture points in the thyroid glands of LT4-induced hypothyroidism rats once a day for 2 weeks. The body temperature, body weight, and food/water intake were measured once a week for 2 weeks. The levels of thyroid hormones, total cholesterol, LDL-cholesterol, GOT, and GPT were measured in the sera of rats using ELISA and an automatic blood analyzer. The histological changes of thyroid tissues were observed by H&E staining. The expression of thermo-regulating protein, TRPV1 was determined by western blot in dorsal root ganglion (DRG) and brain tissues. We also measured the contents of GSH in the liver and antioxidant enzymes, SOD, and catalase in the liver, heart, and brain tissues by enzyme-based assay and Western blot, respectively.
Results
The acupuncture of MOK extract on the thyroid gland of LT4-induced hyperthyroidism rats significantly decreased the body temperature, and did not change body weight and food and water intakes. MOK acupuncture significantly increased the level of TSH, and decreased the levels of T3 and T4 in hyperthyroidism rats. The expression of TRPV1 was inhibited in both DRG and brain tissues after MOK acupuncture, and the levels of GOT, GPT, total cholesterol, and LDL-cholesterol were also decreased. MOK acupuncture also inhibited the pathological feature with follicular lining epithelial thicknesses and increased follicular colloid depositions in the thyroid glands of hypothyroidism. MOK acupuncture significantly increased hepatic GSH levels and decreased the expression of SOD and catalase in the liver, heart, and brain tissues of hyperthyroidism rats.
Conclusions
These results suggest that the pharmacopuncture with MOK extract in hyperthyroidism can improve the pathophysiological changes through regulating the body temperature, thyroid hormones imbalance, lipid accumulation, and oxidation. This anti-hyperthyroidism effect of MOK pharmacopuncture is thought to be related to the control of thermo-regulating protein TRPV1 in DRG and brain.