29.07.2016 | PRECLINICAL STUDIES | Ausgabe 5/2016 Open Access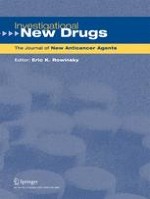 Molecular and cellular effects of a novel hydroxamate-based HDAC inhibitor – belinostat – in glioblastoma cell lines: a preliminary report
Zeitschrift:
Autoren:

Magdalena Kusaczuk, Rafał Krętowski, Anna Stypułkowska, Marzanna Cechowska-Pasko
Summary
Histone deacetylase (HDAC) inhibitors are now intensively investigated as potential cytostatic agents in many malignancies. Here, we provide novel information concerning the influence of belinostat (Bel), a hydroxamate-based pan-HDAC inhibitor, on glioblastoma LN-229 and LN-18 cells. We found that LN-229 cells stimulated with 2 μmol/L of Bel for 48 h resulted in 70 % apoptosis, while equivalent treatment of LN-18 cells resulted in only 28 % apoptosis. In LN-229 cells this effect was followed by up-regulation of pro-apoptotic genes including
Puma
,
Bim
,
Chop
and
p21
. In treated LN-18 cells only
p21
was markedly overexpressed. Simultaneously, LN-229 cells treated with 2 μmol/L of Bel for 48 h exhibited down-regulation of molecular chaperones GRP78 and GRP94 at the protein level. In contrast, in LN-18 cells Western blot analysis did not show any marked changes in GRP78 nor GRP94 expression. Despite noticeable overexpression of
p21
, there were no signs of evident G1 nor G2/M cell cycle arrest, however, the reduction in number of the S phase cells was observed in both cell lines. These results collectively suggest that Bel can be considered as potential anti-glioblastoma agent. To our knowledge this is the first report presenting the effects of belinostat treatment in glioblastoma cell lines.