01.12.2018 | Research | Ausgabe 1/2018 Open Access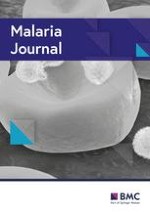 Molecular and physiological analysis of
Anopheles funestus

swarms in Nchelenge, Zambia
Zeitschrift:
Autoren:

Jacek W. Zawada, Yael L. Dahan-Moss, Mbanga Muleba, Roch K. Dabire, Hamid Maïga, Nelius Venter, Craig Davies, Richard H. Hunt, Maureen Coetzee, Lizette L. Koekemoer
Abstract
Background
Anopheles funestus
has been recognized as a major malaria vector in Africa for over 100 years, but knowledge on many aspects of the biology of this species is still lacking.
Anopheles funestus
, as with most other anophelines, mate through swarming. A key event that is crucial for the
An. funestus
male to mate is genitalia rotation. This involves the 135° to 180° rotation of claspers, which are tipped with claws. This physical change then enables the male to grasp the female during copulation. The aim of this investigation was to molecularly characterize wild
An. funestus
swarms from Zambia and examine the degree of genitalia rotation within the swarm.
Methods
Anopheles funestus
swarms were collected from Nchelenge, northern Zambia, during dusk periods in May 2016. All the adults from the swarm were analysed morphologically and identified to species level using a multiplex PCR assay.
Anopheles funestus s.s.
specimens were molecularly characterized by restriction fragment length polymorphism type and Clade type assays. The different stages of genitalia rotation were examined in the adult males.
Results
A total of six swarms were observed during the study period and between 6 and 26 mosquitoes were caught from each swarm. Species analysis revealed that 90% of the males from the swarms were
An. funestus s.s.
MW-type, with 84% belonging to clade I compared to 14% clade II and 2% failed to amplify. Very few specimens (3.4%) were identified as
Anopheles gambiae s.s
. Eighty percent of the males from the swarm had complete genitalia rotation.
Conclusions
This is the first time that
An. funestus
swarms have been molecularly identified to species level.
Anopheles funestus
swarms appear to be species-specific with no evidence of clade-type differentiation within these swarms. The
An. funestus
swarms consist mainly of males with fully rotated genitalia, which strongly suggests that swarming behaviour is triggered primarily when males have matured.