21.05.2020 | Clinical Study | Ausgabe 2/2020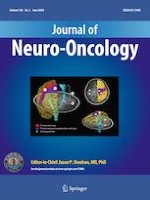 Molecular characteristics and clinical features of multifocal glioblastoma
Zeitschrift:
Autoren:

Antonio Dono, Emily Wang, Victor Lopez-Rivera, Arvind V. Ramesh, Nitin Tandon, Leomar Y. Ballester, Yoshua Esquenazi
Wichtige Hinweise
Electronic supplementary material
Publisher's Note
Springer Nature remains neutral with regard to jurisdictional claims in published maps and institutional affiliations.
Abstract
Introduction
Glioblastomas (GBMs) usually occur as a solitary lesion; however, about 0.5–35% present with multiple lesions (M-GBM). The genetic landscape of GBMs have been thoroughly investigated; nevertheless, differences between M-GBM and single-foci GBM (S-GBM) remains unclear. The present study aimed to determine differences in clinical and molecular characteristics between M-GBM and S-GBM.
Methods
A retrospective review of multifocal/multicentric infiltrative gliomas (M-IG) from our institutional database was performed. Demographics, clinical, radiological, and genetic features were obtained and compared between M-GBM IDH-wild type (IDH-WT) vs 193 S-GBM IDH-WT. Mutations were examined by a targeted next-generation sequencing assay interrogating 315 genes.
Results
33M-IG were identified from which 94% were diagnosed as M-GBM IDH-WT, the remaining 6% were diagnosed as astrocytomas IDH-mutant. M-GBM and S-GBM comparison revealed that
EGFR
alterations were more frequent in M-GBM (65% vs 42% p = 0.019). Furthermore, concomitant
EGFR
/
PTEN
alterations were more common in M-GBM vs. S-GBM (36% vs 19%) as well as compared to TCGA (21%). No statistically significant differences in overall survival were observed between M-GBM and S-GBM; however, within the M-GBM cohort, patients harboring
KDR
alterations had a worse survival (
KDR-
altered 6.7 vs
KDR-
WT 16.6 months,
p
 = 0.038).
Conclusions
The results of the present study demonstrate that M-GBM genetically resembles S-GBM, however, M-GBM harbor higher frequency of
EGFR
alterations and co-occurrence of
EGFR
/
PTEN
alterations, which may account for their highly malignant and invasive phenotype. Further study of genetic alterations including differences between multifocal and multicentric GBMs are warranted, which may identify potential targets for this aggressive tumor.