01.12.2018 | Research article | Ausgabe 1/2018 Open Access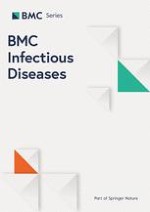 Molecular characterization and epidemiology of carbapenem non-susceptible Enterobacteriaceae isolated from the Eastern region of Heilongjiang Province, China
Zeitschrift:
Autoren:

Xue Gong, Jisheng Zhang, Shanshan Su, Yanjun Fu, Mingjia Bao, Yong Wang, Xiaoli Zhang
Wichtige Hinweise
Xue Gong and Jisheng Zhang contributed equally to this work.
Abstract
Background
The aim of this study was to elucidate the molecular epidemiology of carbapenem non-susceptible Enterobacteriaceae(CNSE) isolated in the Eastern region of Heilongjiang Province, China, and the mechanism of carbapenem resistance.
Methods
A total of 53 CNSE isolates were collected in a grade-3 hospital in Heilongjiang province. Sensitivity to antibiotics was determined using the VITEK-2 Compact automatic system. The modified Hodge test (MHT) and modified carbapenem inactivation test (mCIM) were performed for phenotypic identification. Beta-lactamases gene were detected by Polymerase chain reaction(PCR) and DNA sequencing. The transfer of
bla
NDM
and
bla
KPC
was investigated through conjugation experiment. The clinical data of patients were retrospectively reviewed. Homology of Carbapenem-resistant
Klebsiella pneumoniae
(CRKP) was conducted by multilocus sequence typing (MLST).
Results
CNSE were highly resistant to the majority of antimicrobial agents. The resistance rate was 100% for first, third, fourth generation cephalosporins and enzyme inhibitor compounds. Gentamicin and tobramycin recorded a resistance rate higher than 80%. Less than 30% resistance was detected for amikacin and levofloxacin. Among CNSE 52(98.1%) and 48(90.6%) of CNSE were positive for mCIM and MHT respectively. There were 42 positive
bla
KPC
genes, three
bla
NDM-1
genes, three
bla
NDM-5
genes, one
bla
NDM-7
gene, and six
bla
IMP-4
genes. Most isolates harbored multiple drug resistance gene, especially as related to extended-spectrum-β-lactamases,
bla
SHV
,
bla
TEM
and
bla
CTX-M-15
genes.The resistant gene was transferred into recipient
Escherichia coli
J53 through conjugation in 21.3% (10/47) of the strains. MLST revealed that ST76 (
n
 = 36) was the most predominant clone, followed by ST896, ST323 and ST11. A new one ST 2946 was identity by this study.
Conclusion
The carbapenem resistance phenomenon is alarming and
bla
KPC-2
is the main resistant gene of CNSE in our hospital. This is the first report of an outbreak caused by
bla
KPC-2
positive
K. pneumoniae
ST76 in the Eastern region of Heilongjiang Province, China. Relevant departments should implement infection control and prevention measures to avoid further dissemination of the multi drug-resistant bacteria (MDR).