26.10.2017 | Annotated Sequence Record | Ausgabe 2/2018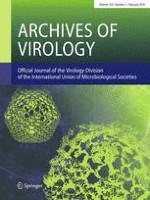 Molecular characterization of a novel fusarivirus infecting the plant-pathogenic fungus
Neofusicoccum luteum
Zeitschrift:
Autoren:

Armelle Marais, Aurélia Nivault, Chantal Faure, Gwenaelle Comont, Sébastien Theil, Thierry Candresse, Marie-France Corio-Costet
Wichtige Hinweise
Handling Editor: Robert H.A. Coutts.
The nucleotide sequence reported in this study has been deposited in GenBank under the accession number KY906213.
Abstract
Double-stranded RNAs from an isolate of
Neofusicoccum luteum
collected from grapevines were analyzed by high-throughput sequencing. Contig annotations revealed the presence of a potential novel virus belonging to the newly proposed family
Fusariviridae
. Completion of the viral genome sequence was performed. The genome is 6,244 nucleotide long, excluding the poly(A) tail and contains two putative open reading frames (ORFs). The first one encodes a large polypeptide of 1,552 amino acids (aa) with conserved RNA-dependent RNA polymerase and helicase domains typical of viral replicases. The second ORF encodes a putative 475-aa-long polypeptide showing weak homology to the corresponding ORF of Macrophomina phaseolina single-stranded RNA virus 1, for which no function is known so far. Phylogenetic analyses indicated that this virus should be considered a novel mycovirus belonging to the proposed family
Fusariviridae
, for which the name "Neofusicoccum luteum fusarivirus 1" (NlFV1) is proposed.