13.11.2017 | Annotated Sequence Record | Ausgabe 3/2018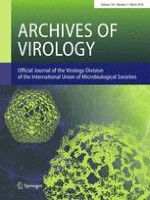 Molecular characterization of a novel luteovirus infecting apple by next-generation sequencing
Zeitschrift:
Autoren:

Pan Shen, Xin Tian, Song Zhang, Fang Ren, Ping Li, Yun-qi Yu, Ruhui Li, Changyong Zhou, Mengji Cao
Wichtige Hinweise
Handling Editor: F. Murilo Zerbini.
Electronic supplementary material
Abstract
A new single-stranded positive-sense RNA virus, which shares the highest nucleotide (nt) sequence identity of 53.4% with the genome sequence of cherry-associated luteovirus South Korean isolate (ChALV-SK, genus
Luteovirus
), was discovered in this work. It is provisionally named apple-associated luteovirus (AaLV). The complete genome sequence of AaLV comprises 5,890 nt and contains eight open reading frames (ORFs), in a very similar arrangement that is typical of members of the genus
Luteovirus
. When compared with other members of the family
Luteoviridae
, ORF1 of AaLV was found to encompass another ORF, ORF1a, which encodes a putative 32.9-kDa protein. The ORF1-ORF2 region (RNA-dependent RNA polymerase, RdRP) showed the greatest amino acid (aa) sequence identity (59.7%) to that of cherry-associated luteovirus Czech Republic isolate (ChALV-CZ, genus
Luteovirus
). The results of genome sequence comparisons and phylogenetic analysis, suggest that AaLV should be a member of a novel species in the genus
Luteovirus
. To our knowledge, it is the sixth member of the genus
Luteovirus
reported to naturally infect rosaceous plants.