01.12.2017 | Research | Ausgabe 1/2017 Open Access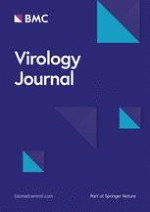 Molecular characterization of infectious pancreatic necrosis virus strains isolated from the three types of salmonids farmed in Chile
Zeitschrift:
Autoren:

René A. Manríquez, Tamara Vera, Melina V. Villalba, Alejandra Mancilla, Vikram N. Vakharia, Alejandro J. Yañez, Juan G. Cárcamo
Background
Chile currently has approximately 241 freshwater-phase salmonid farms and 485 seawater salmonid farming concessions, resulting in 726 salmonid farming centers nationwide. Considering the wide prevalence of this industry, there is a persisting need to widely extend the number of analyzed IPNV isolates. Additionally, novel studies should be more extensive and include many more sampling points, a vast amount of different isolates, various salmonid sources, and diverse water types, in addition to ideally collecting samples over an extended period of time and over a wide territory. Studies should also try to combine analysis techniques to expand on the available knowledge regarding molecular underpinnings, genome characterization, VP5 characterization, VP2 virulence markers, sequence and motif conservations, and phylogeny. Such studies would be highly relevant in fully elucidating the roles of VP2 and VP5 in the virulence mechanisms associated with IPNV infection.
To advance the available knowledge on IPNV, this study carried out genotypic and phylogenic characterizations for 36 Chilean IPNV isolates collected over a 6 year period (2006–2011). Additional analyses of VP2 and comparative genotyping of VP5, including the putative 25 kDa protein, were also performed for all isolates.
Methods
Results
Discussion
In 2015, Chile produced 834,000 t of salmonids. This production was the result of 726 freshwater/seawater culturing centers distributed along a distance covering roughly 2000 Km. Due to the economic importance of this industry, and considering the underreported presence of IPNV, a national characterization of the different IPNV strains present in Chile is of considerable importance. In this study, 36 Chilean IPNV isolates were characterized following sample collection over a 5-year period. Samples were collected from Atlantic salmon, rainbow trout, and coho salmon, the three most important salmonid exports for Chile.
In accordance with previous reports, only two types of Chilean-isolated IPNV strains were found. Specifically, the obtained isolates were classified as either genogroup 1, which is highly similar to the American reference strain West Buxton, or genogroup 5, which is highly similar to the European reference strain Sp. Most of the genogroup 1 isolates originated from the Los Lagos Region in southern Chile, but some were also of isolated from sites in central and the extreme-south of Chile. Genogroup 5 isolates were present in all of the analyzed regions (Table
1
).
Amino acid sequence analysis showed two independent groups with 100% identities within genogroup 5: BC20 (
S. salar
), BC21 (
O. kisutch
), and BC23 (
O. kisutch
); and BC11 (
S. salar
) and BC13 (
S. salar
). Only BC11 and BC13 maintained 100% nucleotide identity, whereas BC20, BC21, and BC23showed identities ranging from 99.24 to 99.58%. Interestingly, the 1096-BC11 and BC13 isolates were obtained from different geographical zones: the Aysén (72.7° S; 45.4° W) and Los Lagos (72.3° S; 41.5° W) Regions, respectively. Nevertheless, since data on egg sources were unavailable, a single egg origin for both locations cannot be ruled out.
Correlation analysis between the geographic location and phylogenetic characteristics of the outbreaks can provide important information to understand viral patterns of spreading or mobility throughout salmonid farms [
42
]. For the isolates 1096-BC20, 1096-BC21, 1096-BC22, 1096-BC23, and 1096-V10, which constituted a clade of genogroup 5, at least three (1096-BC20, 1096-BC22, and 1096-BC23) had a common geographical origin (Aysén Region; Fig.
2c
). These three isolates were obtained in 2009, as was isolate 1096-BC21, which originated from roughly 500 miles (800 Km) away in the Araucania Region (Fig.
2a
). The 1096-BC21 isolate came from an
O. kisutch
hatchery, but as there is no public record for salmonid transport between farms, it is unknown if fry from this hatchery were later transported to the Aysén Region for the next phase of growth. The 1096-V10 isolate was detected in the Los Lagos Region, a midway point between the Araucania and Aysén Regions (Fig.
2b
). Nevertheless, 1096-V10 was obtained from a
S. salar
fry at a hatchery in 2006. Curiously, 1096-BC20, 1096-BC22, and 1096-BC23 were isolated from juvenile/adult
O. kisutch
and
S. salar
. The other clade within genogroup 5 was composed by 1096-BC2, 1096-BC5, and 1096-BC14. Of these, 1096-BC2 and 1096-BC14 were isolated in 2010 from the Comau Fjord (Los Lagos Region), while 1096-BC5 was isolated in 2009 from the Aysén Region. Once again, uncertainty remains regarding the transport of
S. salar
fry and juveniles between the Aysén Region and Comau Fjord. Regarding the genogroup 5 clade formed by 1096-BC11, 1096- BC13, and 1096-BC16, all isolated in 2010, two came from Cisnes (Aysén Region), while 1096-BC13 came from the Reloncaví Estuary. While there is no certainty that the fish came from the same hatchery, 1096-BC11 and 1096-BC13 did have identical nucleotide sequences. Other clades within genogroup 5 were even more difficult to correlate. Aquaculture activities in Chile have existed for more than three decades, and the massive transport of salmonids has always occurred between regions. This fact could explain, for example, why the 1096-V6 virus, isolated in 2006, was close to the 1096-V5 virus isolated in 2008, since both were from the Los Lagos Region. Similarly, it might clarify how the 1096-V4 virus, isolated in 2008 in the Los Ríos Region, could be closely related to the 1096-BC24 virus isolated in 2009 in the Aysén Region.
On the other hand, the genogroup 1 isolates were represented in most regions, except the Los Ríos and Magallanes Regions, although this could be due to the overall low number of isolates obtained from these areas. Both clades observed in this genogroup showed a clear relatedness to the isolation year rather than to region: Isolates 1096-V1, 1096-V7, and 1096-V9, which constituted one clade, were isolated in 2006, while the clade composed by isolates 1096-BC1, 1096-BC3, 1096-BC8, 1096-BC9, 1096-BC15, and 1096-BC26 was sampled from 2009 to 2010 in the Maule and Aysén Regions, which are separated by more than 700 miles (1130 Km).
In contrast to Tapia et al [
30
], the present study found genogroup 1 isolates (American origin) not only in
O. mykiss
, but also in
O. kisutch
and
S. salar
. Similarly, genogroup 5 isolates (European origin) were present not only in
S. salar
, but also in the other two salmonid species. These findings suggest that in Chile there is no fixed relationship between salmonid species and genogroups. Nevertheless, most isolates from
S. salar
(over 60%) belonged to genogrup 5, while
O. mykiss
and
O. kisutch
were equally represented (around 20% each) in that genogroup.
Unlike isolates from genogroup 5, the 10 isolates from genogroup 1 were obtained only in samples from freshwater and estuary fish. However, considering the low number of cases for these isolates, it would be unwise to assume that Chilean genogroup 1 IPNV isolates do not infect seawater salmonids.
In relation to VP2 amino acid residues related to virulence described for Sp strains, the motifs Thr217, Ala221, and, to a lesser extent, Thr247 and His/Tyr500 are associated with high virulence, whereas the motifs Pro217, Ala221, and Ala247 are related to low/moderate virulence [
12
–
14
]. In the current study, more than half of the isolates in genogroup 5 presented high virulence motifs (i.e. Thr, Ala, and Thr at positions 217, 221, and 247, respectively), and seven showed Tyr at position 500. These isolates contrasted with eight genogroup 5 isolates that presented Thr at position 221, which is associated with almost avirulent strains and the establishment of a carrier state or persistent IPNV infection in salmonids [
13
,
14
,
18
]. Unfortunately, data on mortality percentages in field cases are frequently unavailable, either because the information provided by the farmer is imprecise or because there is a policy to not provide such information. Although the laboratory managers that provided the isolates used in the present study claimed that the isolates came from virulent outbreaks, precise information was obtained only for two: 1096-V2 and 1096-V4, with high (about 80%) and medium (40%) level of mortality in field, respectively. Interestingly, these two Sp isolates presented the motifs associated with high virulence (i.e. Thr217, Ala221, Thr247), and 1096-V4 also presented Tyr at position 500.
On the other hand, possible virulence markers for VP2 amino acids were not found associated with genogroup 1 strains. Nine of ten genogroup 1 isolates classified in the current study presented Ala, Thr, and Ala at positions 217, 221, and 247, respectively. Although these isolates supposedly came from virulent outbreaks that were duly reported for diagnosis and identification, accurate information about resulting mortality percentages was unavailable. This amino acid arrangement has been frequently found, either partially (A217 and T221) or completely, in most previously described genogroup 1 isolates [
30
,
43
]. Interestingly, two isolates (1096-V5 [
S. salar
] and BC25 [
S. salar
]) presented Ser residues at position 221, while the 1096-BC5 (
O. kisutch
) isolate presented this amino acid at positions 217 and 221. The presence of serine at position 221 was previously described for one Chilean IPNV isolate [
30
]. Moreover, only one isolate presented Pro at the position 217, which is in contrast to that normally described for moderate- to low-virulence Sp isolates obtained from fish or eggs originating from Ireland, Scotland, Norway, or Spain [
12
,
29
,
44
–
46
].
Recently, Mutoloki et al. [
47
] described two different VP2 amino acid motifs, or fingerprints, for IPNV associated with clinical and subclinical infections: I64T137T217A221T247V252T281N282A319 and V64A137P217T221A247N252S281D282E319, respectively. A search for these fingerprints in the VP2 amino acid sequences of the isolates evaluated in this study showed that of the 26 isolates belonging to genogroup 5, 13 presented the complete motif associated with the clinical fingerprint. Of the remaining 13, seven presented T221 as the only substitution with respect to the clinical fingerprint, while a single isolate presented A247 as the only substitution. Three isolates had two substitutions, and two isolates had three substitutions. In most cases, the substitutions corresponded to amino acids present in the motif associated with the subclinical fingerprint, except for the two isolates presenting S221 and that of S217S221. In the case of the ten genogroup 1 isolates, all presented T221A247N252 and seven presented V64T221A247N252E319. In both cases, these corresponded to partial subclinical fingerprint sequences. Additionally, all genogroup 1 isolates presented T137 and T281, replacements associated with the clinical fingerprint. Two isolates also had I264, and one had A319, both of which are also associated with the clinical fingerprint. Furthermore, all isolates had A217 and A282, substitutions not associated with any fingerprint. Therefore, the clinical finger was only present in the genogroup 5 isolates, with very few amino acid substitutions. In turn, genogroup 1 isolates presented sequences mostly associated with the subclinical fingerprint, with practically constant amino acid substitutions in all isolates. In accordance with the above, the genogroup 5 isolates 1096-V2 and 1096-V4, with high and medium mortality levels in the field, presented amino acid motifs associated with the clinical fingerprint.
Analysis of VP5 showed that four isolates from genogroup 5 (1096-BC20 [
S. salar
], BC21 [
O. kisutch
], BC22 [S. salar], and BC23 [
O. kisutch
]) had undescribed deduced proteins with unusually long amino acid sequences. Although the relatedness among these four isolates was demonstrated by phylogenetic analysis, they were isolated from different regions, fish species, and environments. Therefore, establishing any relationship is unlikely. The role of these longer isoforms in VP5 is unknown. All VP5 amino acid sequences were analyzed using the online tools TMpred and TOPCONS, which detect characteristic topologies in membrane proteins or peptides and determine the presence of transmembrane domains. Results showed an absence of transmembrane sequences, in accordance with previous classification as an anti-apoptotic protein class III [
48
]. Moreover, to determine the presence of motifs for plasma membrane tropism, the VP5 sequences of the obtained Chilean isolates and of the infectious bursal disease virus were searched for the presence of polycationic regions [
36
], the signals of which were not found in the Chilean isolates.
The WebLogo analysis established that the deduced amino acid sequences of the VP5 BH4, BH3, and BH1 domains of the Chilean IPNV isolates were highly similar to corresponding BH domains in MABV Y-6 and, to a slightly lesser extent, IPNV E1-S (Ab strain) [
39
]. However, the principal Logo sequence obtained for BH2 was not similar to any of the selected canonical sequences. Nonetheless, combining the Logo sequences of HTTGR (with higher percentage of conservation, Fig.
6d
, big letter) and DPSRW (with lowest percentages of conservation, Fig.
6d
, letters below the largest) obtained a partial match with the NPTRW sequence, the BH2 domain described for MABV Y-6 (Table
6
). Nevertheless, this pattern was only present in two genogroup 1 isolates and partially in one genogroup 5 isolates, which is very unrepresentative. Clearly, the Logo sequences of the Chilean isolates were unrelated to the canonical BH domain sequences present in class I (Bcl-2, Bcl-xL, and Mcl-1) and class II (Bcl-w and A-1) anti-apoptotic proteins, nor with the BH sequences of pro-apoptotic proteins (Bax, Bak and Bad) [
39
,
48
]. Namely, VP5 sequences of Chilean IPNV isolates were highly similar to the marine birnaviruses MABV Y-6 and IPNV E1-S, an Ab serotype, in addition to being unrelated with anti- or pro-apoptotic proteins.
Shivappa et al. [
12
] described the presence of an ORF for a putative 25 kDa protein located between the VP2 and VP4 coding regions. When assessing the sequences coding for this putative protein in the Chilean viral isolates, only two of the nine isolates with a fully sequenced segment A coded for the complete sequence of the putative 25 kDa protein. According to the performed nuclear localization signal (NLS) alignment analysis against the putative 25 kDa protein of the IPNV strain Sp103, previously investigated by Shivappa et al. [
12
], two of the described sequences coincided with the two assessed Chilean isolates, with the first between amino acid residues 46 to 71 and the second predicted between residues 97 to 113. Moreover, prediction analyses using the online tools NLS_Mapper and NLStradamus revealed that only the first would correspond to a NLS. These tools also detected two additional putative NLS in both Chilean isolates between residues 143 to 178 and 202 to 218 (Fig.
7
). This finding partly coincided with previous descriptions in the nonstructural protein of the
Drosophila
X virus and the IPNV strain Sp103 [
12
]. The presently identified NLS sequences were characterized by the presence of polycationic regions that spanned from the middle of the protein towards the carboxyl terminal. A wide variety of cellular proteins employ surface-exposed, positively charged domains to interact with anionic lipids anchored to the inner plasmatic membrane leaflet [
49
,
50
]. Moreover, the TargetP 1.1 predictor was used to supplement information regarding other possible subcellular location signals in the putative 25 kDa protein. This analysis predicted the presence of a 61 amino acid N-terminal presequence for mitochondrial targeting in the isolates 1096-BC2 and 1096-BC16 (data not shown). The presence of such signals has been previously described for several viral proteins. This situation appears to be similar to what happens with the non-structural Borna disease virus protein X, which is targeted to both the nucleus and mitochondria of infected cells and inhibits the aggregation of the mitochondrial antiviral-signaling protein, thus blocking programmed cell death and confering resistance to Fas-induced cell death [
51
]. Clearly, more investigative progress is needed for the putative protein of 25 kDa, mainly regarding detection as a protein in infected cells, but also on its role in relation to potential nuclear and mitochondrial targeting.
Conclusions
This study molecularly characterized 36 Chilean IPNV isolates sampled over 6 years from the three most cultured salmonids in Chile. The obtained results represent an important advancement in the analysis of IPNV strains present in Chile, providing information about phylogenetic relationships, geographical areas, tropism for salmon species, and characteristics of the VP2, VP5, and putative 25 kDa proteins. Moreover, the obtained data are of upmost relevance for productive salmonid management, providing information that might help in identifying epidemiological links and in developing specific sanitary tools for preventing IPNV risks in Chilean aquaculture.
Acknowledgments
We thank Samuel Valdebenito and Carlos Sandoval of Veterquímica S.A., as well as Dr. Ricardo Enriquez and Mónica Monrás of the Institute of Animal Pathology at the Universidad Austral de Chile, for generously supplying viral isolates. We also thank Dr. Jorge Dresdner of the Department of Economics at the University of Concepción, Chile, for kindly providing us with information about the salmon farming centers present in Chile.
Funding
This work was supported in part by grants from the Fondo Nacional de Desarrollo Científico y Tecnológico de Chile [Fondecyt 1120903 and 1150934], Fondo de Fomento al Desarrollo Científico y Tecnológico [Fondef D08I1096], and Fondo de Financiamiento de Centros de Investigación en Áreas Prioritarias [FONDAP 15110027] - Interdisciplinary Center for Aquaculture Research (INCAR).
Availability of data and materials
The GenBank accession numbers for infectious pancreatic necrosis virus sequences reported in this paper are: KX523824, KX523802, KX523827, KX523803, KX523816, KX523804, KX523818, KX523828, KX523829, KX523801, KX523819, KX523800, KX523833, KX523821, KX523830, KX523805, KX523822, KX523820, KX523809, KX523810, KX523811, KX523799, KX523807, KX523808, KX523825, KX523806, KX523826, KX523823, KX523817, KX523813, KX523812, KX523815, KX523814, KX523832, KX523831 and KX523834.
Authors' contributions
JGC conceived the study, designed some experiments, analyzed the data, guided the experiment process, and wrote the manuscript. RAM, designed some experiments, analyzed the data, and guided the experiment process. TV, MVV, AM, VNV, and AJY contributed in data collection. All authors reviewed and approved the final manuscript.
Competing interests
The authors declare that they have no competing interests.
Consent for publication
Not applicable.
Ethics approval and consent to participate
The viral isolates were supplied by the Veterquímica S.A Enterprise and Institute of Animal Pathology at the Universidad Austral de Chile, who obtained viral isolates from field samples according to the ethical standards of the National Fisheries and Aquaculture Service of Chile (SERNAPESCA.
http://​www.​sernapesca.​cl/​
). All work performed in this study was in vitro and was approved by the Ethics Committee of FONDEF (CONICYT-Chile).
Open Access
This article is distributed under the terms of the Creative Commons Attribution 4.0 International License (
http://​creativecommons.​org/​licenses/​by/​4.​0/​
), which permits unrestricted use, distribution, and reproduction in any medium, provided you give appropriate credit to the original author(s) and the source, provide a link to the Creative Commons license, and indicate if changes were made. The Creative Commons Public Domain Dedication waiver (
http://​creativecommons.​org/​publicdomain/​zero/​1.​0/​
) applies to the data made available in this article, unless otherwise stated.