15.01.2019 | Original Article | Ausgabe 3/2019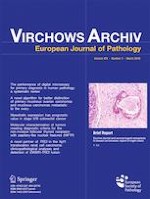 Molecular characterization of tumors meeting diagnostic criteria for the non-invasive follicular thyroid neoplasm with papillary-like nuclear features (NIFTP)
Zeitschrift:
Autoren:

Christopher Pool, Vonn Walter, Darrin Bann, David Goldenberg, James Broach, Max Hennessy, Elizabeth Cottrill, Erik Washburn, Nicole Williams, Henry Crist, Yuka Imamura, Joshua I. Warrick
Wichtige Hinweise
Electronic supplementary material
Christopher Pool and Vonn Walter are co-first authors
Publisher's Note
Springer Nature remains neutral with regard to jurisdictional claims in published maps and institutional affiliations.
Abstract
"Follicular variant" papillary thyroid carcinomas (FV-PTC) that do not histologically invade have a miniscule risk of metastasis, and thus been reclassified as a tumor of low malignant potential, the non-invasive follicular thyroid neoplasm with papillary-like nuclear features (NIFTP). There are few molecular studies of this tumor type. We performed gene expression analysis, by RNA sequencing, on a series of FV-PTCs, NIFTPs, and follicular adenomas. A training set comprised tumors from The Cancer Genome Atlas (TCGA) repository (
n
 = 46), digital slides from which were reviewed and classified as invasive or non-invasive FV-PTC. A validation set comprised in-house NIFTPs, invasive FV-PTCs, and follicular adenomas (
n
 = 26). In the training set, unsupervised clustering separated tumors into three distinct expression subtypes, which associated with invasion and characteristic molecular alterations. Specifically, the "BRAF-like" subtype was enriched in invasive FV-PTCs and tumors with
BRAF
V600E mutations. The "THADA-like" subtype was enriched in non-invasive tumors and those with rearrangements involving
THADA
. The "RAS-family-like" subtype included many invasive and non-invasive FV-PTCs and was enriched in tumors with mutations in RAS family genes. In the validation set, nearest centroid analysis classified all invasive FV-PTCs as "BRAF-like" and all follicular adenomas as either "RAS-like" or "THADA-like." NIFTPs were the most molecularly diverse histologic type, with cases classified as "BRAF-like," "THADA-like," and "RAS-family-like." In conclusion, tumors fitting criteria for NIFTP are molecularly diverse, making it difficult to diagnose them with molecular studies, likely including matrial from cytopathology samples.