01.12.2017 | Review | Ausgabe 1/2017 Open Access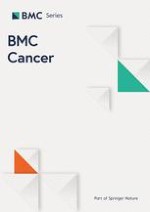 Molecular chess? Hallmarks of anti-cancer drug resistance
Zeitschrift:
Autoren:

Ian A. Cree, Peter Charlton
Abbreviations
ABCB1
ATP binding cassette subfamily B member 1
ALK
Anaplastic lymphoma receptor tyrosine kinase
BCRP
Breast cancer related protein (
ABCG2
)
BRAF
B-Raf proto-oncogene, serine/threonine kinase
BRCA
BRCA, DNA repair associated
CMF
Cyclofosfamide, Methotrexate and 5-Fluorouracil
CTLA4
Cytotoxic T-lymphocyte associated protein 4
DNA
Dexoxyribose nucleic acid
EGFR
Epidermal Growth Factor Receptor
EMT
Epithelial mesenchymal transition
GIST
Gastrointestinal stromal tumour
GSTπ
Gluthathione S-transferase
HER
Human epidermal growth factor receptor
KRAS
Kirsten rat sarcoma viral oncogene homolog
MARCKS
Myristoylated alanine rich protein kinase C substrate
MDR
Multidrug resistance (MDR)
MET
MET proto-oncogene, receptor tyrosine kinase
MLKL
Mixed lineage kinase domain-like protein
MRP1
multidrug resistance related protein (
ABCC1
)
NSCLC
Non-Small Cell Lung Cancer
PARP1
Poly(ADP-ribose) polymerase 1
PD1
Programmed cell death protein 1
PDL1
Programmed death ligand 1 (B7-H1, CD274)
RIP1
Receptor-interacting protein kinase 1
RIP3
Receptor-interacting protein kinase 3
TKI
Tyrosine kinase inhibitor
Background
Resistance often follows initial responses to chemotherapy. This phenomenon was first noted for alkylating agents in the 1940s [
1
–
3
], and although combinations of chemotherapeutic agents led to improved survival [
4
–
6
], resistance has remained a problem for classical chemotherapy and newer targeted agents [
7
]. Cell culture methods allowed study of the phenomenon in vitro, and cell lines have been widely used to explore the mechanisms involved [
7
,
8
]. Classical multidrug resistance (MDR) was recognised early in the development of chemotherapy and
MDR1
(
ABCB1
, PgP) was identified in 1986 [
9
], followed by other drug efflux pumps [
10
].
×
The rapidity with which cancer cells can develop resistance to chemotherapy is startling. Using samples from an early neoadjuvant breast cancer trial, we were able to show a considerable difference in chemosensitivity between cancer cells obtained prior to and following four cycles of CMF chemotherapy [
11
]. The dogma that resistance arose from overgrowth of resistant cell clones due to new mutations was clearly incorrect. We went on to show that tumour-derived cells in primary cell culture down-regulate drug targets and up-regulate resistance mechanisms compared with untreated cells [
12
]. It is now clear that cancer chemosensitivity is governed by the relative expression of sensitivity and resistance mechanisms, determined by both genetic and environmental factors within tumours [
13
–
15
].
Initially many tumours appear to respond to treatment but, as not all the neoplastic cells are killed, this residual population enables regrowth of tumours that no longer respond to a wide variety of drugs [
11
]. This is cannot be explained by just one mechanism: extreme drug resistance is far more likely to be derived from both gene regulation and mutation. Thus, although in some cases acquired drug resistance may appear to be due to specific mutations, in many cases rapid resistance originates from multiple non-mutational, non-genetic mechanisms [
12
,
14
,
15
].
As targeted agents such as tyrosine kinase inhibitors (TKIs) came into practice, it was rapidly noted that these too exhibited the development of resistance, but usually a much slower rate [
16
–
18
]. In GIST, imatinib resistance was been found to be due to new mutations, and these often arise in one deposit while others continue to respond [
19
–
24
]. Similar results are seen for other mutation-targeted agents including epidermal growth factor receptor (EGFR) inhibitors in non-small cell lung cancer (NSCLC) [
25
–
28
], BRAF inhibitors in melanoma [
29
,
30
], and HER2 inhibition in breast cancer [
31
,
32
]. A tumour can compensate for EGFR (HER1) blockade through the activation of alternative signaling pathways such as amplification of MET as well as through changes in tumour microenvironment [
33
]. EMT has also been reported in NSCLC samples from patients who had developed resistance to EGFR inhibition [
33
], and some patients develop small cell lung cancer, via neuroendocrine differentiation [
34
].
Mechanisms of resistance
The principles underlying the development of anti-cancer drugs resistance apply across all the anti-cancer drugs we have studied, though some are more common in different drug-tumour combinations. The mechanisms fall into a number of distinct categories (Fig.
1
), and often occur together, complicating attempts to combat them:
Other factors
Use of multiple mechanisms
Cancers can employ several resistance mechanisms, either sequentially or concurrently to evade drug treatment. Four examples are described to illustrate this point, including classical chemotherapy and targeted agents:
It is clear that understanding these mechanisms has enabled the field to undertake more rational development of the next generation of drugs to overcome clinical resistance. Beyond chemical modification of a drug, advances in other technologies are also looking promising. For example nanoparticle delivery systems to allow better targeting or addressing specific molecular alterations in resistant tumours [
73
]. It may also be possible to develop multifunctional nanoparticles able to simultaneously target multiple resistance mechanisms.
Strategies to overcome resistance
Understanding of resistance mechanisms has now advanced to the point where experimental approaches can now start to predict clinical drug resistance. In vitro these approaches include target-based mutagenesis, use of isogenic tumour cell lines, both gain and loss of function resistance screens, and in depth analysis (cellular, genomic and molecular) of drug-resistant tumours. Further information will be gained from both genetically-engineered mouse models, patient-derived xenografts, and
ex vivo
primary cell culture models. A number of strategies have been used in cancer treatment to overcome the problem of resistance.
Genetic and epigenetic events, as well as extracellular signals, can activate pathways that enable cancer cells to become chemoresistant to therapeutic agents. This situation has encouraged a more systematic approach to identifying those signaling pathways that might confer resistance to cancer drugs. This approach will not only help stratify patients into groups either more or less likely to respond, but also will help design drug combinations that act simultaneously on multiple cancer cell dependencies and resistant pathways.
Molecular pathology
Alterations of proteins and nucleic acids can be identified with increasing accuracy, and their concentration measured accurately and precisely using a variety of different methods [
90
,
91
], some of which can be applied to blood samples without ever needing a biopsy of the tumour. Implementation of these methods in pathology departments is proceeding rapidly [
90
], and the measurements are increasingly used by oncologists to tailor treatment to individual measurements. The challenge to the diagnostic pathologist is to go beyond diagnosis to provide the information needed to treat the patient [
92
], while the challenge to the oncologist is to understand the information provided and adopt a strategy that gives the patient the longest possible survival with the greatest possible quality of life [
93
,
94
]. The use of specific TKIs is often guided by closely linked companion diagnostics, such as EGFR or KRAS mutation status according to the licensed indication [
92
]. Late resistance mechanisms often involve further mutations, and these may require more extensive testing. In contrast to companion diagnostics, the term 'complementary diagnostics' describes a broader group of diagnostics associated with a class of drugs, unconstrained by drug license and used to guide therapy [
95
]. As the number of drugs and targets increase, use of complementary diagnostics are likely to be required to optimise therapy, based on methods such as targeted next generation sequencing [
80
].
Conclusions
Cancer teams need to learn to play molecular chess – effectively outthinking the cancer's likely response to any treatment used, and to be ready for it. The tools provided by the pharmaceutical industry to allow this have never been better, and coupled with increasingly sophisticated radiotherapy and surgery, allow many patients to survive for years and even decades with cancers that would have killed them rapidly just 30 years ago. The principles of drug resistance – or perhaps the rules of molecular chess – are increasingly clear and can improve patient care.
Acknowledgements
We are grateful to all those who have contributed through discussion and collaboration over many years to make personalised medicine a reality.
Availability of data and materials
Not applicable.
Authors' contributions
IC and PC conceived the idea and co-wrote the paper. Both authors read and approved the final manuscript.
Authors' information
IC is a molecular pathologist, and holds honorary chairs at UCL and Coventry University. He chairs the research committee of the Royal College of Pathologists.
PC was formerly Director of Biology at Xenova Ltd and VP Biology at Vertex Pharmaceuticals (Europe). He is currently a Venture Partner at Imperial Innovations and has an honorary chair at the University of Warwick.
Competing interests
IC has shares in CanTech Ltd, and has acted as a consultant to the pharmaceutical and diagnostics industry on personalised medicine, including Astra-Zeneca, Amgen, Pfizer, Merck, MSD, Biocartis, Novartis and Roche.
PC previously worked for Xenova and Vertex Pharmaceuticals. He is currently a Venture Partner at Imperial Innovations and advises companies on cancer drug development.
Consent for publication
Not applicable.
Ethics approval and consent to participate
Not applicable.
Open Access
This article is distributed under the terms of the Creative Commons Attribution 4.0 International License (
http://​creativecommons.​org/​licenses/​by/​4.​0/​
), which permits unrestricted use, distribution, and reproduction in any medium, provided you give appropriate credit to the original author(s) and the source, provide a link to the Creative Commons license, and indicate if changes were made. The Creative Commons Public Domain Dedication waiver (
http://​creativecommons.​org/​publicdomain/​zero/​1.​0/​
) applies to the data made available in this article, unless otherwise stated.