01.09.2009 | Article | Ausgabe 9/2009 Open Access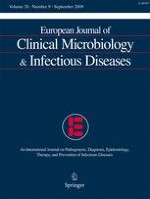 Molecular diagnostics of intestinal parasites in returning travellers
Autoren:

R. J. ten Hove, M. van Esbroeck, T. Vervoort, J. van den Ende, L. van Lieshout, J. J. Verweij
Abstract
A new diagnostic strategy was assessed for the routine diagnosis of intestinal parasites in returning travellers and immigrants. Over a period of 13 months, unpreserved stool samples, patient characteristics and clinical data were collected from those attending a travel clinic. Stool samples were analysed on a daily basis by microscopic examination and antigen detection (i.e. care as usual), and compared with a weekly performed multiplex real-time polymerase chain reaction (PCR) analysis on
Entamoeba histolytica
,
Giardia lamblia
,
Cryptosporidium
and
Strongyloides stercoralis
. Microscopy and antigen assays of 2,591 stool samples showed
E. histolytica
,
G. lamblia
,
Cryptosporidium
and
S. stercoralis
in 0.3, 4.7, 0.5 and 0.1% of the cases, respectively. These detection rates were increased using real-time PCR to 0.5, 6.0, 1.3 and 0.8%, respectively. The prevalence of ten additional pathogenic parasite species identified with microscopy was, at most, 0.5%. A pre-selective decision tree based on travel history or gastro-intestinal complaints could not be made. With increased detection rates at a lower workload and the potential to extend with additional parasite targets combined with fully automated DNA isolation, molecular high-throughput screening could eventually replace microscopy to a large extent.