01.12.2012 | Research | Ausgabe 1/2012 Open Access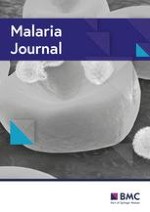 Molecular epidemiology of drug resistance markers of
Plasmodium falciparum

in Yunnan Province, China
Zeitschrift:
Autoren:

Fang Huang, Linhua Tang, Henglin Yang, Shuisen Zhou, Hui Liu, Junwei Li, Shaohua Guo
Wichtige Hinweise
Electronic supplementary material
The online version of this article (doi:
10.​1186/​1475-2875-11-243
) contains supplementary material, which is available to authorized users.
Competing interests
The authors hereby certify that no conflict of interest of any kind occurred in the framework of this study.
Authors' contributions
FH was responsible for the molecular genetic analysis and data interpretation and drafted the manuscript. LT was responsible for the overall study and was involved in all stages of this study, including its design. HY was involved in the study design and coordination. SZ performed several of the molecular genetic studies and data analysis. HL participated in sample collection. JL and SG carried out the molecular analysis and sequence alignments. All the authors read and approved the final manuscript.
Abstract
Background
The mutations in
Plasmodium falciparum
chloroquine resistance transporter (
pfcrt
), multidrug resistance 1 (
pfmdr1
), dihydrofolate reductase (
pfdhfr
), dihydropteroate synthase (
pfdhps
) and ATPase (
pfatp6
) genes were associated with anti-malaria drug resistance. The aim of this study was to investigate the prevalence of polymorphisms in
pfcrt
,
pfmdr1
,
pfdhfr
,
pfdhps
and
pfatp6
in Yunnan Province. Finger-prick blood samples were collected from malaria-positive patients from Yunnan Province in 2009-2010. Single-nucleotide polymorphisms (SNPs) in the resistance-related genes were analysed by various PCR-based methods.
Results
A total of 108 blood samples were collected. Although chloroquine has not been used to treat falciparum malaria for nearly 30 years, 95.3% of the parasites still carried the
pfcrt
K76T mutation, whereas the majority of isolates displayed the wild-type
pfmdr1
N86 and D1246 sequences. The molecular level of sulphadoxine–pyrimethamine resistance in
P. falciparum
was high. The most prevalent mutation was
pfdhfr
C59R (95.9%), whereas the frequencies of the quadruple, triple and double mutants were 22.7% (N51I/C59R/S108N/I164L), 51.5% (N51I/C59R/S108N, N51I/C59R/I164L and C59R/S108N/ I164L) and 21.6% (N51I/ C59R, C59R/S108N and C59R/I164L), respectively. A437G (n = 77) and K540E (n = 71) were the most prevalent mutations in
pfdhps
, and 52.7% of the samples were double mutants, among which A437G/K540E was the most common double mutation (37/49). Quadruple mutants were found in 28.0% (26/93) of samples. A total of 8.6% of isolates (8/93) carried the S436A/A437G/A581G triple mutation. No mutations were found in
pfatp6
codons 623 or 769, but another two mutations (N683K and R756K) were found in 4.6% (3/97) and 9.2% (6/97) of parasite isolates, respectively.
Conclusions
This study identified a high frequency of mutations in
pfcrt
,
pfdhfr
and
pfdhps
associated with CQ and SP resistance in
P. falciparum
and no mutations linked to artemisinin resistance (
pfatp6
). Molecular epidemiology should be included in routine surveillance protocols and used to provide complementary information to assess the appropriateness of the current national anti-malarial drug policy.