01.12.2017 | Research | Ausgabe 1/2017 Open Access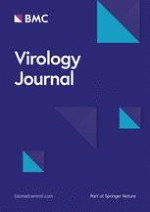 Molecular evolution of HIV-1 integrase during the 20 years prior to the first approval of integrase inhibitors
Zeitschrift:
Autoren:

Karolin Meixenberger, Kaveh Pouran Yousef, Maureen Rebecca Smith, Sybille Somogyi, Stefan Fiedler, Barbara Bartmeyer, Osamah Hamouda, Norbert Bannert, Max von Kleist, Claudia Kücherer
Wichtige Hinweise
Electronic supplementary material
Background
Methods
Results
Discussion
Our analyses could confirm and considerably extend previously published results based on INSTI-naïve [
26
,
31
–
35
] or ART-naïve [
35
–
40
] study populations that either focused on HIV-1 subtype B [
31
,
36
,
38
] or included various HIV-1 group M subtypes [
26
,
32
–
35
,
37
,
39
,
40
]. We restricted our analyses to HIV-1 subtype B strains because these are predominant in Germany [
43
–
45
] and because different HIV-1 subtypes have different consensus amino acids at some sites, which can bias the degree of variability when compared to consensus B [
33
,
35
].
We found the highest amino acid variability determined by entropy, time trends, and direct coupling analysis within the CCD, the NTD, and between CCD and NTD. Sites important for enzymatic activity were in general conserved, however, some positions involved in binding the cellular cofactor LEDGF/p75 (sites 125, 165) and within the minimal nonspecific DNA binding region (sites 220, 230, 232, 234, 256, 265) were polymorphic with an overall variability ≥5%. Covariation between positions 125, 165, 256, or 265 and other sites was observed, and the DNA-binding site 234 covaried with the DNA-binding site 253. The most frequent substitutions were T125A, V165I, I220L, S230 N, D232E, L234I, D256E, and A265V. All of them occurred within the same biochemical class of amino acids, with the exception of T125A that represents a switch from a hydrophilic to a hydrophobic amino acid. The effect of this switch is not known and should be investigated experimentally. A time trend in frequency was observed for variants T125A, D256E, and A265V. The knowledge about the variability of the integrase should be taken into account for the design of genotypic resistance assays.
Most time trends were based on an exchange of two amino acids, however, a general diversification was observed at sites 119 and 124. 17 out of 22 amino acid variants with increasing or decreasing frequency covaried among each other. In general, we observed a concordant time trend for pairs with a positive direct coupling term and a discordant time trend for pairs with a negative direct coupling term. Exceptions to this rule were couplings between positions 154–265 and 201–256 (Table
4
). The time trends for the individual variants 154I–A265, M154-265 V, and V201-256E were discordant despite positive direct coupling terms. The reason for this may be unidirectional coupling, i.e. 154I requires the presence of A265, but not vice versa. Likewise, the time trends of M154-A265, 154I-265 V, and 201I-256E were concordant despite negative direct coupling terms.
The prevailing concordance of significant time trends and significant couplings in our study suggests the selection of coevolving epistatic clusters. However, due to the transmission bottlenecks [
18
], genetic drift may be another viable explanation for the observed time trends in the frequency of certain amino acid variants. The role of genetic drift in HIV evolution is debated and has been quantified to some extent at the level of intra-patient evolution and for known transmission pairs rather than on inter-patient level [
60
,
61
]. Genetic drift on inter-patient level requires inheritance of selectively neutral substitutions. Large parts of the integrase may be under negative selection to maintain enzymatic functionality; nevertheless, particular positions and certain substitutions of the integrase may be selectively neutral. Therefore, we considered the possibility of genetic drift for all time-trending substitutions by assessing whether there was evidence for (i) inheritance of the time-trending substitutions and (ii) whether the time-trending substitutions were selectively neutral. Ad (i): We statistically compared the mean patristic distance of random sequences versus the mean patristic distance of sequences carrying a specific time-trending substitution to investigate if time-trending substitutions appeared more frequently in phylogenetically closely related sequences (Additional file
1
: Table S1). Sequences carrying the time-trending substitutions 72 V, 154I, 165I, and 265 V had significantly smaller mean patristic distances than random, by this indicating inheritance. Interestingly, all of these substitutions decreased in frequency over time. Ad (ii): First, we performed Tajima's D test [
60
,
61
] with a result of D = −1.44, by this indicating negative selection. Next, we calculated the ratio of nonsynonymous over synonymous mutations (dN/dS ratio) [
60
,
61
], finding that most regions of the integrase were under strong negative selection, including sites 72, 154, 165, and 265 (Additional file
2
: Figure S1). In summary, we could not observe a clear contribution of genetic drift to the time trends of the examined substitutions.
By using Sanger sequencing of bulk RT-PCR products with a sensitivity of approximately 30% [
62
,
63
] and excluding ambiguous amino acids in our analyses we could only investigate the major virus variant from each patient sample. Minor variants and linkage between minor variants can only be investigated by using more sensitive techniques like single genome sequencing (SGS) or next generation sequencing (NGS) [
63
–
65
]. To minimize the probability that technical errors during RT-PCR and Sanger sequencing lead to false positive predictions with regard to coupling terms, we combined our direct coupling analysis with a power analysis, which essentially requires that an amino acid pair has to be present in multiple sequences to be repeatedly identified by direct coupling analysis. Recently, the use of covariation methods as a measure of coevolution has been questioned by Talavera et al. [
66
]. Based on a computational study, the authors point out that a strong covariation signal is caused by a low evolutionary rate. We therefore assessed our results accordingly but could not find a relation between the rarity of pairwise substitutions and high coupling terms or the occurrence of single substitutions in couplings (Additional file
3
: Figure S2).
16 minor INSTI resistance mutations and 11 INSTI-selected mutations were observed as naturally occurring in our ART-naïve study population, which originated from the time prior to INSTI approval. Among these resistance-associated variants, three increased in frequency over time and seven covaried with non-resistance-associated variants. The complex interdependent evolution of these mutations might control enzymatic activity and replication capacity independent of selective pressure through INSTIs at the inter-patient level. Indeed, accessory drug resistance mutations that compensate viral fitness are often already polymorphic in drug-sensitive HIV-1, suggesting that these mutations may naturally enhance viral fitness and virulence with progression of the HIV-1 epidemic [
21
,
22
]. INSTI-independent linkage between non-resistance-associated sites and resistance-associated sites or sites targeted by INSTIs can affect the selection of resistance mutations in the presence of INSTIs. This knowledge should be taken into account for the improvement of resistance prediction algorithms as well as for the development and preclinical evaluation of new INSTIs and ALLINIs. Deeper analyses of the observed resistance-associated variants are needed to evaluate their clinical relevance. In particular, those with naturally increasing frequencies that were linked to covariation should be investigated, i.e. L101I, T122I, and V201I. The absence of major INSTI resistance mutations in our ART-naïve study population underscores the suitability of INSTIs for first-line antiretroviral regimens.
Because the analysed dataset was rather small (
n
= 337), our results may require further validation from the analysis of larger, independent datasets. Due to the relatively small number of samples, some of our results might not have reached statistical significance, e.g. the temporal trend of T122 and D256. Generally, given the small sample size, overrepresentation of almost identical sequences (i.e. from transmission chains) may profoundly bias any downstream analysis of time trends and covariation patterns. To assess whether our analyses were affected by such sampling bias, we additionally performed them using a reduced dataset in which clusters of closely related sequences were replaced by one representative only. The results obtained from the reduced dataset confirmed all results obtained from the full dataset.
Conclusions
Our aim was to analyse the molecular evolution of the HIV-1 integrase prior to the approval of INSTIs and, thus, INSTI selective pressure at the inter-patient level. We found significant time trends in the frequency of certain amino acid variants, suggesting ongoing adaptation of the enzyme. Upon closer inspection, we found that amino acid variants with significant time trends covaried with other time-trending variants. Such a linkage may impose constraints that determine the evolutionary trajectory of the integrase and that influence the selection of INSTI resistance mutations. Our results can help in evaluating the resistance potential of naturally occurring polymorphisms and in understanding the development of resistance in the presence of INSTIs.
Acknowledgments
We are very grateful to all of the study patients and medical doctors who participate in the German HIV-1 Seroconverter Study. We thank Angelika Zach for study assistance, Steve Norley for proofreading of the manuscript, and the sequencing facility of the RKI.
Funding
Funding of the German HIV-1 Seroconverter Study by the BMG (Federal Ministry of Health) and BMBF (Federal Ministry of Education and Research) in the framework of various research projects between 1998 and 2012 is greatly acknowledged. KPY, MRS, and MvK acknowledge funding from the BMBF through project 031A307 and the Einstein centre ECMATH, project CH20.
Availability of data and materials
The sequence data was deposited at GenBank and assigned the accession numbers KM677336 to KM677672.
Ethics approval and consent to participate
The study protocol and the informed consent procedure of the German HIV-1 Seroconverter Study was initially approved in 2005 by the Ethics Committee of the Charité, University Medicine Berlin (EA2/105/05), with approval amended and confirmed in 2013.
Consent for publication
Not applicable.
Competing interests
The authors declare that they have no competing interests.
Publisher's Note
Springer Nature remains neutral with regard to jurisdictional claims in published maps and institutional affiliations.
Open Access
This article is distributed under the terms of the Creative Commons Attribution 4.0 International License (
http://​creativecommons.​org/​licenses/​by/​4.​0/​
), which permits unrestricted use, distribution, and reproduction in any medium, provided you give appropriate credit to the original author(s) and the source, provide a link to the Creative Commons license, and indicate if changes were made. The Creative Commons Public Domain Dedication waiver (
http://​creativecommons.​org/​publicdomain/​zero/​1.​0/​
) applies to the data made available in this article, unless otherwise stated.