01.03.2011 | Riley Symposium | Ausgabe 3/2011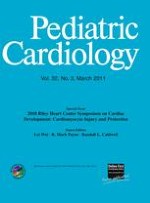 Molecular Genetics and Pathogenesis of Arrhythmogenic Right Ventricular Cardiomyopathy: A Disease of Cardiac Stem Cells
Zeitschrift:
Autoren:

Raffaella Lombardi, A. J. Marian
Abstract
Arrhythmogenic right ventricular cardiomyopathy (ARVC) is an uncommon cardiomyopathy characterized by fibroadiposis replacing cardiac myocytes, predominantly in the right ventricle. The clinical phenotype is characterized by cardiac arrhythmias, sudden cardiac death, and heart failure. The molecular genetic basis of ARVC is partially known. Mutations in
DSP
(desmoplakin),
JUP
(plakoglobin),
PKP2
(plakophilin 2),
DSG2
(desmoglein 2), and
DSC2
(desmocollin 2) are responsible for approximately half of the cases. Mutations in T
MEM43
and
TGFB3
, encoding transmembrane protein 43 and transforming growth factor β3, respectively, also have been associated with ARVC. The molecular pathogenesis of ARVC has at least two components. The first component is fibroadiposis, which is the characteristics hallmark of the disease. The second is cardiac dysfunction, which is primarily due to impaired myocyte-to-myocyte attachment. The pathogenesis of fibroadiposis involves partial nuclear translocation of plakoglobin (PG) and subsequent suppression of canonical Wnt signaling, which is involved in the development of the right ventricle and its outflow tract, the predominant sites of involvement in ARVC. Suppression of the canonical Wnt signaling results in a switch to adipogenesis in the second heart field progenitor cells. Accordingly, ARVC is a disease of cardiac progenitor cells that have gone awry and differentiated to adipocytes.