01.11.2008 | Biological Psychiatry - Rapid Communication | Ausgabe 11/2008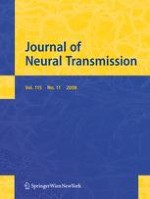 Molecular genetics of adult ADHD: converging evidence from genome-wide association and extended pedigree linkage studies
Zeitschrift:
Autoren:

Klaus-Peter Lesch, Nina Timmesfeld, Tobias J. Renner, Rebecca Halperin, Christoph Röser, T. Trang Nguyen, David W. Craig, Jasmin Romanos, Monika Heine, Jobst Meyer, Christine Freitag, Andreas Warnke, Marcel Romanos, Helmut Schäfer, Susanne Walitza, Andreas Reif, Dietrich A. Stephan, Christian Jacob
Wichtige Hinweise
Electronic supplementary material
The online version of this article (doi:
10.​1007/​s00702-008-0119-3
) contains supplementary material, which is available to authorized users.
Abstract
A genome-wide association (GWA) study with pooled DNA in adult attention-deficit/hyperactivity disorder (ADHD) employing ~500K SNP markers identifies novel risk genes and reveals remarkable overlap with findings from recent GWA scans in substance use disorders. Comparison with results from our previously reported high-resolution linkage scan in extended pedigrees confirms several chromosomal loci, including 16q23.1-24.3 which also reached genome-wide significance in a recent meta-analysis of seven linkage studies (Zhou et al. in Am J Med Genet Part B, 2008). The findings provide additional support for a common effect of genes coding for cell adhesion molecules (e.g.,
CDH13, ASTN2
) and regulators of synaptic plasticity (e.g.,
CTNNA2, KALRN
) despite the complex multifactorial etiologies of adult ADHD and addiction vulnerability.