01.12.2012 | Research | Ausgabe 1/2012 Open Access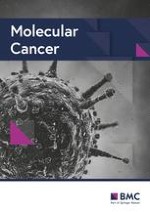 Molecular mechanism implicated in Pemetrexed-induced apoptosis in human melanoma cells
Zeitschrift:
Autoren:

Aitziber Buqué, Jangi Sh Muhialdin, Alberto Muñoz, Begoña Calvo, Sergio Carrera, Unai Aresti, Aintzane Sancho, Itziar Rubio, Guillermo López-Vivanco
Wichtige Hinweise
Electronic supplementary material
The online version of this article (doi:
10.​1186/​1476-4598-11-25
) contains supplementary material, which is available to authorized users.
Aitziber Buqué, Jangi Sh Muhialdin contributed equally to this work.
Competing interest
The authors declare that they have no competing interests.
Author's contribution
AB undertook the experimental procedures as well as preparing and writing the manuscript. JSM undertook the apoptosis experiments as well as preparing and writing the manuscript. AB and JSM contributed equally to this work. UA and BC undertook the gene expression assays. UA, SC and AM did the statistical analysis for the manuscript. SC, AM, AS and IR proposed the chemotherapy for the study. GLV was central in the design, coordination and manuscript editing. All authors have read and approved the final manuscript.
Abstract
Background
Metastatic melanoma is a lethal skin cancer and its incidence is rising every year. It represents a challenge for oncologist, as the current treatment options are non-curative in the majority of cases; therefore, the effort to find and/or develop novel compounds is mandatory. Pemetrexed (Alimta®, MTA) is a multitarget antifolate that inhibits folate-dependent enzymes: thymidylate synthase, dihydrofolate reductase and glycinamide ribonucleotide formyltransferase, required for
de novo
synthesis of nucleotides for DNA replication. It is currently used in the treatment of mesothelioma and non-small cell lung cancer (NSCLC), and has shown clinical activity in other tumors such as breast, colorectal, bladder, cervical, gastric and pancreatic cancer. However, its effect in human melanoma has not been studied yet.
Results
In the current work we studied the effect of MTA on four human melanoma cell lines A375, Hs294T, HT144 and MeWo and in two NSCLC cell lines H1299 and Calu-3. We have found that MTA induces DNA damage, S-phase cell cycle arrest, and caspase- dependent and –independent apoptosis. We show that an increment of the intracellular reactive oxygen species (ROS) and p53 is required for MTA-induced cytotoxicity by utilizing N-Acetyl-L-Cysteine (NAC) to blockage of ROS and p53-defective H1299 NSCLC cell line. Pretreatment of melanoma cells with NAC significantly decreased the DNA damage, p53 up-regulation and cytotoxic effect of MTA. MTA was able to induce p53 expression leading to up-regulation of p53-dependent genes Mcl-1 and PIDD, followed by a postranscriptional regulation of Mcl-1 improving apoptosis.
Conclusions
We found that MTA induced DNA damage and mitochondrial-mediated apoptosis in human melanoma cells in vitro and that the associated apoptosis was both caspase-dependent and –independent and p53-mediated. Our data suggest that MTA may be of therapeutic relevance for the future treatment of human malignant melanoma.