01.12.2012 | Research | Ausgabe 1/2012 Open Access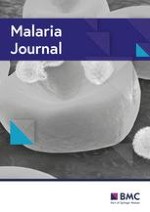 Molecular monitoring of
plasmodium falciparum

drug susceptibility at the time of the introduction of artemisinin-based combination therapy in Yaoundé, Cameroon: Implications for the future
Zeitschrift:
Autoren:

Sandie Menard, Isabelle Morlais, Rachida Tahar, Collins Sayang, Pembe Issamou Mayengue, Xavier Iriart, Françoise Benoit-Vical, Brigitte Lemen, Jean-François Magnaval, Parfait Awono-Ambene, Leonardo K Basco, Antoine Berry
Wichtige Hinweise
Competing interests
The authors declare that they have no competing interests.
Authors' contributions
SM, PIM, carried out the molecular genetic studies. SM, AB, XI conceived and designed the study protocol and analysed the results. SM, AB, FBV, LKB drafted the manuscript. JFM, FBV, XI participated in its design and helped to draft the manuscript. RT, CS, LKB and BL participated in study design, supervised clinical and laboratory diagnosis in the health care centres, and collected blood samples in Nlongkak, Olembe, and Nkolndongo, IM and PAA had the same role for the blood samples collected in Mfou. All authors read and approved the final manuscript.
Abstract
Background
Regular monitoring of the levels of anti-malarial resistance of
Plasmodium falciparum
is an essential policy to adapt therapy and improve malaria control. This monitoring can be facilitated by using molecular tools, which are easier to implement than the classical determination of the resistance phenotype. In Cameroon, chloroquine (CQ), previously the first-line therapy for uncomplicated malaria was officially withdrawn in 2002 and replaced initially by amodiaquine (AQ) monotherapy. Then, artemisinin-based combination therapy (ACT), notably artesunate-amodiaquine (AS-AQ) or artemether-lumefantrine (AL), was gradually introduced in 2004. This situation raised the question of the evolution of
P. falciparum
resistance molecular markers in Yaoundé, a highly urbanized Cameroonian city.
Methods
The genotype of
pfcrt
72 and 76 and
pfmdr1
86 alleles and
pfmdr1
copy number were determined using real-time PCR in 447
P. falciparum
samples collected between 2005 and 2009.
Results
This study showed a high prevalence of parasites with mutant
pfcrt
76 (83%) and
pfmdr1
86 (93%) codons. On the contrary, no mutations in the
pfcrt
72 codon and no samples with duplication of the
pfmdr1
gene were observed.
Conclusion
The high prevalence of mutant
pfcrt
76T and
pfmdr1
86Y alleles might be due to the choice of alternative drugs (AQ and AS-AQ) known to select such genotypes. Mutant
pfcrt
72 codon was not detected despite the prolonged use of AQ either as monotherapy or combined with artesunate. The absence of
pfmdr1
multicopies suggests that AL would still remain efficient. The limited use of mefloquine or the predominance of mutant
pfmdr1
86Y codon could explain the lack of
pfmdr1
amplification. Indeed, this mutant codon is rarely associated with duplication of
pfmdr1
gene. In Cameroon, the changes of therapeutic strategies and the simultaneous use of several formulations of ACT or other anti-malarials that are not officially recommended result in a complex selective pressure, rendering the prediction of the evolution of
P. falciparum
resistance difficult. This public health problem should lead to increased vigilance and regular monitoring.