19.05.2016 | Ausgabe 2/2016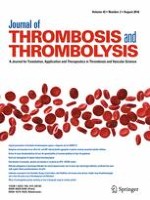 Molecular pathogenesis of plasminogen Hakodate: the second Japanese family case of severe type I plasminogen deficiency manifested late-onset multi-organic chronic pseudomembranous mucositis
Zeitschrift:
Autoren:

Tsukasa Osaki, Masayoshi Souri, Young-seok Song, Naohiro Izumi, Ruby Law, Akitada Ichinose
Wichtige Hinweise
Electronic supplementary material
The online version of this article (doi:
10.​1007/​s11239-016-1375-y
) contains supplementary material, which is available to authorized users.
In the manuscript, individual amino acid residues are written in the three-letter codes with amino acid position numbers, while the single-letter codes are used for plural amino acid residues in a word. The NCBI's nucleotide numbers (up to five digits; NCBI Reference Sequence: NG_016200) are used throughout this manuscript because the absolute nucleotide numbers are too long (Ten digits). This work was presented in part at the 36th Japanese Society of Thrombosis and Hemostasis meeting in Osaka, Japan, in May 2014.
Abstract
A 64-year-old man first developed ligneous conjunctivitis at the age of 58 years after right pulmonary resection because of suspected cancer; otherwise, he had been healthy. Since then, he began to suffer from various forms of chronic pseudomembranous mucositis. Laboratory tests demonstrated that he had 7.8 % of plasminogen activity and 5.9 % of the normal antigen level. Thus, he was diagnosed as having severe type I plasminogen deficiency, making him the third case in Japan. DNA sequencing and PCR-restriction fragment length polymorphism analyses revealed that this patient was a compound heterozygote of a G-to-A missense mutation (G266E) in exon VIII and a g-to-a mutation at the obligatory splicing acceptor site in intron 12 (IVS12-1g>a). These two mutations were confirmed to be novel. Molecular modeling and splice site strength calculation predicted conformational disorder(s) for the Glu266 mutant and a drastic decrease in splicing efficiency for intron 12, respectively. Western blot analysis demonstrated that the patient contained a small amount of the normal-sized plasminogen protein. Mass spectrometric analysis of the patient's plasminogen revealed a peptide containing the wild-type Gly266 residue and no peptides with mutations at Glu266. However, he had never suffered from thrombosis. Low levels of fibrinogen/fibrin degradation products (FDP), D-dimer, and plasmin-α2-plasmin inhibitor complex clearly indicated a hypo-fibrinolytic condition. However, his plasma concentration of elastase-digested crosslinked FDPs was 4.8 U/mL, suggesting the presence of an on-going plasmin(ogen)-independent "alternative" fibrinolytic system, which may protect the patient from thrombosis. The patient has been free from recurrence of ligneous conjunctivitis for approximately 2.5 years.