01.12.2018 | Research | Ausgabe 1/2018 Open Access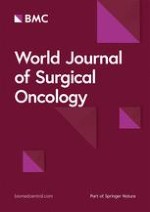 Molecular pathological expression in malignant gliomas resected by fluorescein sodium-guiding under the YELLOW 560 nm surgical microscope filter
Zeitschrift:
Autoren:

Ningning Zhang, Zhende Shang, Zhigang Wang, Xianbing Meng, Zheng Li, Hailong Tian, Dezhang Huang, Xin Yin, Bin Zheng, Xinhua Zhang
Wichtige Hinweise
Ningning Zhang and Zhende Shang contributed equally to this work.
Abstract
Background
This study aimed to analyze the relationship between molecular pathologic expression of GFAP and Ki-67 and fluorescence levels, and to provide molecular pathological basis for the removal of malignant gliomas (MG) by Fluorescein Sodium (FLS) navigation under the YELLOW 560 nm surgical microscope filter.
Methods
A retrospective analysis of clinical data of 18 MG cases confirmed by the postoperative pathology was performed. All cases were resected by FLS guiding under the YELLOW 560 nm filter. Hematoxylin-eosin (HE) staining, molecular pathology markers GFAP, and Ki-67 immunohistochemical staining of the specimens were performed. The relationship between fluorescence staining levels and GFAP positive rate, Ki-67 proliferation index, and WHO grades was studied.
Results
There were 69 pathological specimens with fluorescence levels of "bright" fluorescence (
n
 = 32), "low" fluorescence (
n
 = 18), and "no" fluorescence (
n
 = 19). Immunohistochemical staining showed GFAP-positive expression in both tumor cells and normal glial cells. The staining levels of the specimens in the fluorescence regions were higher than that in the non-fluorescence regions. GFAP expression was positive in 61 specimens and negative in 8 specimens. Comparison of Ki-67 proliferation index using chi-square test showed different fluorescence levels had different Ki-67 proliferation indexes (
χ
2
 = 14.678,
p
 = 0.005). With high proliferation index of specimens, fluorescence level was brighter. WHO grade had no correlation with fluorescence levels (
χ
2
 = 3.531,
p
 = 0.171).
Conclusion
FLS-guided resection of MG is safe and effective. In the boundary area of MG, fluorescence levels and Ki-67 proliferation index showed correlation. FLS-guided resection achieved the function of "reducing tumor cell," thus reducing the proliferation index in the lesion area.