28.12.2016 | Original Article | Ausgabe 3/2017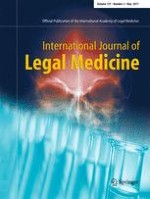 Molecular pathological study on LRRC10 in sudden unexplained nocturnal death syndrome in the Chinese Han population
Zeitschrift:
Autoren:

Lei Huang, Shuangbo Tang, Yili Chen, Liyong Zhang, Kun Yin, Yeda Wu, Jinxiang Zheng, Qiuping Wu, Jonathan C. Makielski, Jianding Cheng
Wichtige Hinweise
Electronic supplementary material
The online version of this article (doi:
10.​1007/​s00414-016-1516-z
) contains supplementary material, which is available to authorized users.
Abstract
Sudden unexplained nocturnal death syndrome (SUNDS) is a perplexing disorder to both forensic pathologists and clinic physicians. Clinical features of SUNDS survivors suggested that SUNDS is similar to Brugada syndrome (BrS). Leucine-rich repeat containing 10 (
LRRC10
) gene was a newly identified gene linked to dilated cardiomyopathy, a disease associated with sudden cardiac death. To investigate the prevalence and spectrum of genetic variants of
LRRC10
gene in SUNDS and BrS, the coding regions of LRRC10 were genetically screened in 113 sporadic SUNDS victims (from January 2005 to December 2015, 30.7 ± 7.5 years) and ten BrS patients (during January 2010 to December 2014, 38.7 ± 10.3 years) using direct Sanger sequencing. Afterwards, LRRC10 missense variant carriers were screened for a panel of 80 genes known to be associated with inherited cardiac arrhythmia/cardiomyopathy using target-captured next-generation sequencing. In this study, an in silico-predicted malignant LRRC10 mutation p.E129K was detected in one SUNDS victim without pathogenic rare variant in a panel of 80 arrhythmia/cardiomyopathy-related genes. We also provided evidence to show that rare variant p.P69L might contribute to the genetic cause for one SUNDS victim and two BrS family members. This is the first report of genetic screening of LRRC10 in Chinese SUNDS victims and BrS patients.
LRRC10
may be a new susceptible gene for SUNDS, and LRRC10 variant was initially and genetically linked to BrS-associated arrhythmia.