01.12.2017 | Research article | Ausgabe 1/2017 Open Access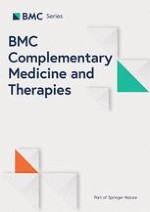 Monitoring heavy metals, residual agricultural chemicals and sulfites in traditional herbal decoctions
Zeitschrift:
Autoren:

In-Sil Yu, Jeong-Sook Lee, Sung-Dan Kim, Yun-Hee Kim, Hae-Won Park, Hoe-Jin Ryu, Jib-Ho Lee, Jeong-Mi Lee, Kweon Jung, Cheol Na, Jin-Yong Joung, Chang-Gue Son
Wichtige Hinweise
Electronic supplementary material
The online version of this article (doi:
10.​1186/​s12906-017-1646-y
) contains supplementary material, which is available to authorized users.
Abbreviations
CAC
Codex Alimentarius Commission
CV%
Percent coefficient of variation
GC/NPD
Gas chromatography/nitrogen phosphorous detector
GC/μECD
GC/micro electron capture detector
ND
Not detected in any sample over detectable level
PTWI
Provisional tolerable weekly intake
S/N
Signal/noise ratio of three
Background
Herbal medicines have been used to manage various diseases and ailments for thousands of years particularly in East Asia, and herbal products became popular worldwide. The global market for herbal products is continuously growing, and reached US $83 billion in 2012 [
1
]. About 40% of individuals in Korea and China, and 18% of adults in the United States adopt herbal remedies to treat illnesses [
2
–
4
]. However, with the ever-increasing use of herbal medicines worldwide, many concerns have been raised regarding especially the safety and quality control of medicinal plant materials and herbal products [
5
,
6
].
Safety and quality of herbal medicines are affected by many factors, intrinsic factor like species differences and extrinsic factors including environment, collection methods, cultivation, harvest, post-harvest processing, transport, and storage practices [
7
]. Quality control directly impacts not only the safety of herbal medicinal products also their efficacies [
8
]. Compared with synthetic drugs, assurance of quality control of herbal drugs, determining identity, purity, content, and biological property, are much more complex [
9
]. In addition, adulteration with undeclared other substances and contamination with undeclared toxic or hazardous substances are most likely to be found in herbal materials or herbal products [
10
]. The toxic heavy metals, residual pesticides or improper use of sulfites are regarded as potent risk factors in use of herbal medicines because they can be easily contaminated in herbal materials due to soil pollution and process of cultivation, harvesting and storage [
11
–
13
].
Those contaminants are known to be harmful in human health under certain levels, and then the allowable limits in medicinal herbs are under strict regulation by various countries including Korea [
14
]. The medicinal herbs are generally utilized as decoction forms of multiple herbal formulas especially in East Asia countries, which can change the quantities of contaminants in process of decoction [
15
]. In contrast many studies for quantification of those contaminants in herbal materials, very few information have been conducted for the herbal decoction to date.
This study firstly presents the levels of four toxic heavy metals, 33 pesticides and sulfites in 155 decoctions collected randomly from Seoul in Korea.
Methods
Results
Concentration of heavy metals
One hundred fifty two samples (98.1%) of 155 decoctions contained at least one of three heavy metals as over detectable levels; As (96.1%), Cd (97.4%), and Pb (90.3%), but not for Hg (0.0%). Their average concentrations were 77.0 ± 79.7 ug/kg (range 0 to 582.4) for As, 20.4 ± 23.7 ug/kg (range 0 to 219.0 ug/kg) for Cd, and 68.8 ± 76.5 ug/kg (range 0 to 631.7 ug/kg) for Pb respectively. The 95th percentile concentration was approximately 5-folds of average value (304.4 ± 121.1 ug/kg for As, 90.1 ± 56.2 ug/kg for Cd and 285.8 ± 144.1 ug/kg for Pb respectively) (Table
7
).
Table 7
Concentration of heavy metals, sulfur dioxide and pesticides in herbal decoctions
Clarification (Sample N.)

Average ± SD (Range value, ug/kg, but mg/kg for sulfites)

As

Cd

Pb

Hg

Pesticides

Sulfites

Nutritional disorders (41)

82.9 ± 97.6 (1.3–582.4)

17.8 ± 12.6 (2.9–41.2)

66.5 ± 100.4 (0.0–631.7)

NDa

ND

17.6 (1 sample)

Respiratory disorders (36)

78.5 ± 84.7 (0.0–374.4)

25.4 ± 39.5 (0.0–219.0)

75.8 ± 71.6 (0.0–242.8)

ND

ND

ND

Digestive disorders (22)

67.3 ± 67.2 (0–106.9)

14.9 ± 11.9 (0–22.1)

67.1 ± 55.8 (0–121.6)

ND

ND

ND

Genitourinary disorders (12)

82.6 ± 85.3 (13.5–245.9)

18.2 ± 22.9 (1.7–86.2)

65.7 ± 78.1 (0.5–25.3)

ND

ND

ND

Muscular disorders (12)

118.6 ± 59.6 (7.4–229.4)

36.3 ± 21.4 (3.2–93.9)

107.2 ± 51.0 (21.0–04.7)

ND

ND

ND

Gynecological disorders (10)

117.1 ± 74.4 (0.0–237.1)

27.6 ± 14.3 (0.0–45.9)

118.7 ± 95.7 (0–308.4)

ND

ND

ND

Psychiatric disorders (10)

30.2 ± 25.7 (0.0–91.5)

11.7 ± 13.1 (0.0–39.9)

21.2 ± 35.2 (0.0–119.2)

ND

ND

ND

Circulatory disorders (6)

50.9 ± 34.4 (14.6–112.6)

16.6 ± 16.7 (2.9–46.8)

43.5 ± 28.3 (0.0–79.8)

ND

ND

ND

Skin disorders (6)

58.9 ± 42.5 (4.0–129.7)

20.0 ± 12.8 (0.4–38.1)

52.8 ± 27.2 (9.7–81.7)

ND

ND

17.6 (1 sample)

Total (155)

96.1%b

97.4%

90.3%

0%

0%

0.7%

77.0 ± 79.7

20.4 ± 23.7

68.8 ± 76.5

-

-

-

(0.0–582.4)

(0.0–219.0)

54 (0.0–631.7)

-

-

-

95th percentile

304.4 ± 121.1

90.1 ± 56.2

285.8 ± 144.1
Among 9 subgroups of samples based on the their clinical main indications by ICD-10, decoctions for psychiatric disorders showed the lowest concentration (approximately 30 to 57% of whole sample) for As, Cd and Pb while samples for muscular disorders showed the highest value (approximately 150 to 180% of whole sample). No significant difference was however observed among the groups for their average concentrations (Table
7
).
Concentration of pesticides and sulfites
None of herbal drug sample showed the detectable level for any kinds of 33 pesticides. Regarding the content of residual sulfites, only one decoction sample showed over limit of detection (10 mg/kg), as a 17.6 mg/kg (Table
7
).
PTWI values of heavy metals
Average weekly doses (μg/kg/week) of total samples were 0.34, 0.09, and 0.03 for As, Cd and Pb, which were correspondent to 2.2, 1.3 and 1.2% of PTWI guided by JECFA. Meanwhile their 95th percentile values were 1.33 (8.9%), 0.39 (5.6%), and 1.26 (5.0%) for As, Cd and Pb respectively (Table
8
). No significant difference was observed among the 9 subgroups (data not shown).
Table 8
ADD and PTWI values of heavy metals in herbal decoctions
| Contents | As | Cd | Pb | Hg |
| --- | --- | --- | --- | --- |
| Provisional tolerable weekly intake (PTWI, μg/kg/week)a | 15 | 7 | 25 | 5 |
| Average daily dose (ADD, μg/kg/day) | 0.05 | 0.01 | 0.04 | 0 |
| ADD for 95th percentile (μg/kg/day) | 0.19 | 0.06 | 0.18 | 0 |
| Average weekly dose (AWD, μg/kg/week) | 0.34 | 0.09 | 0.30 | 0 |
| Ratio to PTWI | 2.2% | 1.3% | 1.2% | 0% |
| AWD for 95th percentile (μg/kg/week) | 1.33 | 0.39 | 1.25 | 0 |
| Ratio to PTWI | 8.9% | 5.6% | 5.0% | 0% |
Discussion
In term of the scientific requirement for safety and efficacy of herbal products, the quality control of herbal resources is priority, and then the assessment of adulteration or contamination with undeclared materials including hazardous substance is an overriding consideration [
22
]. Therefore, WHO had developed guidelines for assessing quality of herbal medicines, and particularly considered the potential risk of contaminants from the soil or other environmental sources [
14
]. In this study, we have monitored the residual levels of four heavy metals, 33 pesticides and sulfites in herbal decoctions, which can be contaminated in the process of cultivation, harvesting and storage.
From the measurement of the four residual heavy metals, we found that 98.1% of samples contained the detectable levels of at least As, Cd, or Pb respectively. This detection rate is notably higher than other studies in UAS, which presented the contamination of As, Cd, Pb or Hg in 20.0% of Ayurvedic herbal products and 19.4% of Hispanic herbal remedies [
23
,
24
]. This big gap in the prevalence of heavy metal contamination between our study and these reports might result from the drastic difference of detectable levels. In general, traditional Indian medicines are known to use commonly the metal-contained herbal drugs [
25
], and then about 1000 fold higher concentration of heavy metals comparing to our study was observed in above two studies [
23
,
24
]. In our study, the residual Hg was not detected in any sample; meanwhile the LOD of Hg was much higher than other three heavy metals.
In case of exceeding intake, heavy metals poisoning can be induced. Above four heavy metals rank among the priority metals that are of public health significance due to their high degree of toxicity, which can cause multiple organ damage, even at lower levels of exposure [
25
]. The herbal drug-derived poisoning of heavy metals are frequently reported, likely hemolytic anemia by arsenic intoxication [
26
], congenital lead poisoning [
27
], and mercury toxicity following herbal preparations [
28
]. Moreover, As, Cd, Pb and Hg are carcinogenic toxic metals [
29
,
30
]. Accordingly, their contents in herbal products are regulated by governments. Our results showed that As, Cd and Pb contents were 2.6, 6.7 and 1.4% of the maximum allowable limits for herbal medicinal preparation (As < 3 mg/kg, Cd < 0.3 mg/kg, Pb < 5 mg/kg, and Hg < 0.2 mg/kg) by Korean MFDS [
19
].
The final utilizing form of medicinal herbs is generally the decoction especially in East Asia countries; however no guide about the heavy metal contamination exists for herbal decoction. When we compare the beverages using vegetable, tea or ginseng (Cd < 0.1 mg/kg and Pb < 0.3 mg/kg) described in the Korean Food Standard Codex [
19
], our data are near to 20% of the maximum allowable limits for Cd and Pb respectively. The concentrations of those heavy metals were very wide, thus we considered the cases of the top ranking samples for heavy metals. The 95th percentile concentration was approximately 4-folds of average value (0.3 mg/kg for As, 0.09 mg/kg for Cd and 0.3 mg/kg for Pb respectively), which is still less than the guideline for above beverages. In addition, because toxic metals are cumulative poisons, the JECFA recommends comparing the percentage value of PTWI for the individual heavy metals [
31
]. The PTWI values less than 2.2% for total samples and 8.9% for 95th percentile respectively. This result would indicate that the herbal decoctions generally contain the safe range of heavy metals, regarding As, Cd, Pb, and especially Hg. We herein adapted PTWI value of As (15 μg/kg/week). In fact, JECFA however withdrew this PTWI value in 2010 because it was believed to be inappropriate [
32
]. High levels of toxic metals can sometimes occur in Chinese or Indian herbal medicines when they are used as active ingredients [
33
], while those cases were absent in our study.
On the other hand, the contamination with residual pesticides or sulfites in herbal remedies is another consideration. The major source of above toxic metal in herbal preparation is the environmental contamination including the soil, water and air [
34
], while contaminations of the residual pesticides result from mainly in the process of cultivation or harvesting [
35
]. Although the today's proper use of pesticides is safe and can improve the yield and quality of the agricultural products, there are many concerns about the potential risks associated with pesticide use [
36
]. Therefore, likely many countries Korean government have restricted the usage of these pesticides establishing tolerances or maximum residue limits (MRLs) in herbal materials [
37
]. In our study no residual pesticide was detected in 155 decoction samples. In addition, our data revealed that only one sample (decoction of
Bojungikkitang
, 补中益气汤) contained the detectable level of sulfites (≥10 mg/kg). Sulfites are used as food preservative and can naturally occur in some foods [
38
], however intake of excess sulfites has been reported to induce a various adverse effects including dermatitis, hypotension, diarrhoea or asthmatic reactions, in especially sensitive individuals [
39
,
40
]. Codex Alimentarius Commission (CAC) recommended that products with sulfites ≥10 mg/kg should always be declared [
41
], and Korean movement has regulated it with the maximum residue limits (MRLs) of sulfites as 30 mg/kg in medicinal herbs since 2009 [
37
].
Bojungikkitang
(补中益气汤) is a typical formula supporting the
Qi
of digestive track, which composed of 8 medicinal herbs (
Astragali membranaceus
Bunge,
Panax ginseng
C.A. Meyer,
Atractylodes japonica
Koidzumi,
Glycyrrhiza uralensis
Fischer,
Angelica gigas
Nakai,
Citrus unshiu
Markovich,
Cimicifuga heracleifolia
Komarov and
Bupleurum falcatum
Linne) The exact reason for the high level of sulfites (17.6 mg/kg) in the decoction was unknown.
The quantity of contaminants can be changed in manufacturing process for final products. A study presented the significantly low transfer rates of toxic metals (10.5% for As, 4.1% for Cd, 4.3% for Pb, and 2.7% for Hg) after decoction process of herbal formulae [
42
]. One study reported a 5.3% detection rate of residual pesticides and 0.9% excess MRLs rate among 1565 medicinal herbs [
43
], and another study presented the 12.5% excess MRLs rate among136 medicinal herbals [
44
] in Korea. These data are notably different with our results in current study. One study showed that the boiling process reduces the contamination levels of unwanted contents including heavy metals [
45
], which is able to explain our finding.
Conclusions
Taken together, our study presents the current status of herbal decoctions regarding the contamination with heavy metals, pesticides and sulfites, which are in the safe range in Korea. This data would provide a reference to the research field of herbal preparation.
Acknowledgements
Authors thank Seoul Korean Medicine Association, Association of Seoul Oriental Pharmacy and Seoul Oriental Drug Association for their providing the decoction samples. This study was supported by Oriental Medicine Research and Development Project (HI15C-0112), Seoul Metropolitan Government Research Institute of Public Health and Environment, South Korea.
Availability of data and materials
The dataset supporting the conclusions of this article is included within the article and its additional file.
Authors' contributions
JS, SD, YH, and HW designed the study and performed the data analyses. HJ, JH, JM and K conducted the data gathering, set up the database. C, JY carried out the data obtained and drafted this paper. IS and CG mainly participated in the design and conduction of the study. All authors read and approved the final manuscript.
Competing interests
The authors declare that they have no competing interests.
Consent for publication
Not applicable.
Ethics approval and consent to participate
Not applicable.
Open Access
This article is distributed under the terms of the Creative Commons Attribution 4.0 International License (
http://​creativecommons.​org/​licenses/​by/​4.​0/​
), which permits unrestricted use, distribution, and reproduction in any medium, provided you give appropriate credit to the original author(s) and the source, provide a link to the Creative Commons license, and indicate if changes were made. The Creative Commons Public Domain Dedication waiver (
http://​creativecommons.​org/​publicdomain/​zero/​1.​0/​
) applies to the data made available in this article, unless otherwise stated.