01.12.2017 | Research | Ausgabe 1/2017 Open Access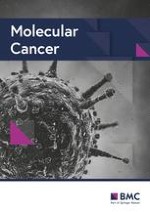 Monitoring multiple myeloma by idiotype-specific peptide binders of tumor-derived exosomes
Zeitschrift:
Autoren:

Enrico Iaccino, Selena Mimmi, Vincenzo Dattilo, Fabiola Marino, Patrizio Candeloro, Antonio Di Loria, Danilo Marimpietri, Antonio Pisano, Francesco Albano, Eleonora Vecchio, Simona Ceglia, Gaetanina Golino, Antonio Lupia, Giuseppe Fiume, Ileana Quinto, Giuseppe Scala
Wichtige Hinweise
Electronic supplementary material
Abbreviations
ELISA
Enzyme-linked immunosorbent assay
FITC
Fluorescein isothiocyanate
mIg
monoclonal immunoglobulin
SEM
Scanning electron microscope
SMNPs
Streptavidin magnetic nanoparticles
Background
Methods
Cell lines and immunoglobulin purification
5T33MM, A20 and IM9 B cell lines bear surface Igs that are secreted in the culture medium. Cells were grown in RPMI medium, supplemented with 10% fetal bovine serum, 50 units/ml penicillin, 50 μg/ml streptomycin and 2 mM L-glutamine.
B-cells from MM patient and healthy donor were isolated by negative selection from whole blood using RosetteSep Human B Cell Enrichment Cocktail [Stem Cell Technology, Vancouver, Canada]
,
as previously described [
26
].
Igs were purified from the culture supernatants by using the Mab Trap™ antibody purification Kit [GE Healthcare, Little Chalfont, UK], according to the manufacturer's instructions.
Selection and amplification of phage ligands of 5T33MM Ig
The Ph.D.-C7C Phage Display Peptide Library kit was purchased from New England Biolabs [NEB, Ipswich, Massachusetts, US]. The screening of phage displayed library was performed using the bait 5T33MM Igs, as previously reported [
22
]. Briefly, the streptavidin-conjugated beads [Thermo Fisher, Waltham, Massachusetts, US] were coated with 5T33MM Igs and incubated with 1 × 10
11
phages overnight at 4 °C. Beads were extensively washed with PBS supplemented with 0.05% Tween-20 to remove unbound phage. 5T33MM Igs-interacting phages were eluted with 0.2 M glycine-HCl (pH 2.2, 1 mg/mL BSA) followed by the addition of neutralizing solution (1 M Tris-HCl pH 9.1). Ultimately, 3 cycles of panning were performed. Plaques of lysis from isolated phages were transferred to nitrocellulose filters, and membranes were blocked with PBS 1X, 0.1% NP-40; 5% milk; 0.02% NaN3 and then incubated for 2 h at RT with 100 μg of purified 5T33MM Igs. After washing, membranes were hybridized with an alkaline phosphatase-conjugated anti-mouse IgG [Sigma Aldrich, Saint Louis, Missouri, US] (dilution 1:5000) and then washed 6 times. Immunoreactive phage clones were detected by BCIP/NBT premixed substrate [Thermo Fisher].
Synthesis and in vitro evaluation of id-peptides binding to the 5T33MM Ig
Single strand DNA (ssDNA) was extracted from the selected phage clones by phenol/chlorophorm purification followed by ethanol precipitation. DNA fragment codifying the peptide ligand was amplified by PCR and sequenced to get the primary structure of amino acid sequence for the peptide synthesis. Synthesized peptides were purchased from Caslo Laboratory ApS [Caslo, Kongens Lyngby, DE]. The specific binding of peptides to the 5T33MM sIgG was analyzed by ELISA, as follows. Streptavidin coated 96 well plates were washed extensively and supplemented with biotin-conjugated peptides by 1 h-incubation at 37 °C; then, after washing and blocking with blocking solution (1X PBS, 0.05% Tween-20, 5% milk), aliquots of 5T33MM sIgG (1 μg/ml in blocking buffer) were added overnight at 4 °C. Wells were extensively washed and coated with the anti-mouse IgG (Fc-specific) alkaline phosphatase-conjugated [Sigma Aldrich] for 1 h at 37 °C, incubated with the alkaline phosphatase substrate [Sigma Aldrich], and analyzed by an ELISA reader at 405 nm [Labsystems multiscan MS].
In vitro cell binding
Cultured 5T33MM, A20 and IM9 cells as well as primary B cells from MM patient and healthy donor were washed and suspended at the density of 10 6 cells/ml in FACs Flow Buffer [BD Biosciences]. All subsequent washing and incubations were carried out in the same buffer on ice. Cells were incubated with 20 μg/ml of FITC-conjugated peptides for 10 min on ice, then washed twice, and analyzed by flow cytometry [FACSCalibur, BD Biosciences]. For peptide co-localization with the BCR complex, 5T33MM cells (10 6 cells/ml) were stained with FITC-conjugated peptides [10 μg/ml) and goat anti-mouse IgG-Alexa fluor 568 [Thermo Fisher]. After extensive washing, cells were mounted under cover slip, and visualized by confocal microscopy [Leica TC-SP2].
Animal studies
Experiments were conducted in C57BL/KaLwRij mice (8 to 10 weeks-old females) in accordance with the National Institutes of Health Guide for the Care and Use of Laboratory Animals. A total number of 10 mice per group were respectively injected with 10 6 cells of 5T33MM multiple myeloma cells or A20 B-lymphoma cells. Whole blood samples (250 μL) were collected at baseline and then weekly after tumor inoculation by retro-orbital bleeding.
Isolation of MM-released exosomes
Exosomes were isolated from 250 μL of blood and 10 mL of cell supernatant respectively using ExoQuick solutions [System Biosciences – SBI, Palo Alto, California, US] and ExoQuick-TC™ [System Biosciences], according to the manufacturer's protocol. Briefly, serum and cell supernatants were centrifuged at 3000×
g
for 15 min to remove cells and cell debris. The supernatant was transferred to a sterile vessel and the recommended volume of ExoQuick solution or ExoQuick-TC™ were added to the bio-fluids. After brief vortex, samples were stored 30 min at 4 °C and then centrifuged at 1500 x
g
for 30 min at room temperature. After removing the supernatant, the pellet was suspended in nuclease-free water.
Detection of MM-released paraprotein
The levels of serum IgG2b from the blood (250 μL) of tumor-engrafted mice or control mice were measured using the Easy-Titer™ Mouse IgG Assay Kit [Thermo Fisher] according to manufacturer's instructions.
Physical characterization of exosomes
The exosomes sample (10 μl) was spread, evaporated by using a vacuum concentrator at 30 °C, and analyzed by scanning electron microscopy [ESEM Quanta 400 instrument; FEI]. Dynamic light scattering and zeta potential determinations were performed with a Nano ZS 90 [Malvern Instruments], allowing the analysis of particles within the range of 1 nm up to 3 μm. For Western blot analysis, the exosomes were lysed in reducing sample buffer [0.25 M Tris–HCl (pH 6.8), 40% glycerol, 8% SDS, 5% 2-mercaptoethanol and 0.04% bromophenol blue] and boiled for 10 min at 95 °C. Proteins were resolved by SDS-PAGE (SDS-polyacrylamide gel electrophoresis), transferred to poly-vinylidene fluoride membranes, blocked with 5% non-fat powdered milk in PBS-T (0.5% Tween-20) and probed with anti-mouse CD63, anti- mouse CD81, or anti-mouse IgG antibodies. Protein bands were detected using X-ray film and enhanced chemiluminescence reagent [GE Healthcare].
Exosome immunocapture and flow cytometry
Isolated exosomes from serum or cell supernatants were suspended in 1 ml of 1X PBS. Exosome aliquots (500 μl) were labeled with 50 μl of 10X Exo-Red [SBI] according to manufacturer's instructions. The exosomes were re-isolated using the addition of 100 μl ExoQuick followed by precipitation for 30 min at +4 °C. The labeled exosome pellet was suspended in 500 μl 1X PBS and stained with CD63-coupled magnetic beads provided by SBI's Exo-Flow IP kit [SBI] and with the FITC-conjugated peptides.
Results and discussion
Conclusion
In conclusion, we describe the development of a method allowing the rapid and simple detection of MM-released exosomes using the Id-peptide binders of the Igs expressed by tumor B-cells. Being the IgBCR expressed on the surface of tumor B cells as well as tumor-derived exosomes, our methodology could be extended to the most common B cell neoplasia with potential application for monitoring the minimal residual disease. Furthermore, compared with the standard exosome purification and immuno-capturing systems, the advantage of our method relies on the use of fluorescent-labeled Id-peptides coupled to SMNPs, which represent a more powerful and sensitive tool for tumor detection. Based on specificity, flexibility, cost effectiveness and modularity, our capture system is ideal for novel non-invasive applications in personalized medicine and could be easily extended to other B-cell malignancies. Our experimental approach could open new avenues in devising lab-on-a-chip platforms and liquid biopsy options for an effective early detection of TDEs shed into the blood by tumor B-cells.
Acknowledgments
The authors thank Prof. Karin Vanderkerken (Department of Hematology and Immunology, Myeloma Center Brussels, Vrije Universiteit Brussel, Brussels, Belgium) for the 5T33MM tumor cells, and Dr. Donato Cosco (Department of Health Sciences, University of Catanzaro "Magna Græcia" Catanzaro, Italy) for the assistance with the Zetasizer. A special thanks to Prof. Mary Bebawy (Laboratory Cancer Cell Biology and Therapeutics – University of Technology Sydney) for reading the manuscript.
Grant support
Associazione Italiana per la Ricerca sul Cancro to G.S. (Grant IG-2009- 9411; IG Grant 2012–13,388); Ministero dell'Istruzione, dell'Università e della Ricerca to G. S and I.Q. (PRIN project 2012CK5RPF; PRIN project 2012CK5RPF_002); Grant POR CALABRIA FSE 2007/2013 PON01/00862 to GS; Ministero della Salute Ministero della Salute to G.S. (Grant RF-2010-2,306,943). S. M. was supported by a fellowship from Associazione Italiana per la Ricerca sul Cancro (AIRC, FIRC).
Competing interests
The authors declare that they have no competing interests.
Publisher's Note
Springer Nature remains neutral with regard to jurisdictional claims in published maps and institutional affiliations.
Open Access
This article is distributed under the terms of the Creative Commons Attribution 4.0 International License (
http://​creativecommons.​org/​licenses/​by/​4.​0/​
), which permits unrestricted use, distribution, and reproduction in any medium, provided you give appropriate credit to the original author(s) and the source, provide a link to the Creative Commons license, and indicate if changes were made. The Creative Commons Public Domain Dedication waiver (
http://​creativecommons.​org/​publicdomain/​zero/​1.​0/​
) applies to the data made available in this article, unless otherwise stated.