01.09.2009 | Original Article | Ausgabe 9/2009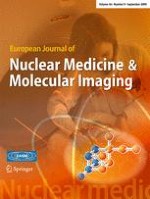 Monitoring therapeutic response of human ovarian cancer to 17-DMAG by noninvasive PET imaging with 64Cu-DOTA-trastuzumab
Autoren:

Gang Niu, Zibo Li, Qizhen Cao, Xiaoyuan Chen
Abstract
Purpose
17-Dimethylaminoethylamino-17-demethoxygeldanamycin (17-DMAG), a heat-shock protein 90 (Hsp90) inhibitor, has been intensively investigated for cancer therapy and is undergoing clinical trials. Human epidermal growth factor receptor 2 (HER-2) is one of the client proteins of Hsp90 and its expression is decreased upon 17-DMAG treatment. In this study, we aimed to noninvasively monitor the HER-2 response to 17-DMAG treatment in xenografted mice.
Methods
The sensitivity of human ovarian cancer SKOV-3 cells to 17-DMAG in vitro was measured by MTT assay. HER-2 expression in SKOV-3 cells was determined by flow cytometry. Nude mice bearing SKOV-3 tumors were treated with 17-DMAG and the therapeutic efficacy was evaluated by tumor size measurement. Both treated and control mice were imaged with microPET using 64Cu-DOTA-trastuzumab and 18F-FDG. Biodistribution studies and immunofluorescence staining were performed to validate the microPET results.
Results
SKOV-3 cells are sensitive to 17-DMAG treatment, in a dose-dependent manner, with an IC50 value of 24.72 nM after 72 h incubation. The tumor growth curve supported the inhibition effect of 17-DMAG on SKOV-3 tumors. Quantitative microPET imaging showed that 64Cu-DOTA-trastuzumab had prominent tumor accumulation in untreated SKOV-3 tumors, which was significantly reduced in 17-DMAG-treated tumors. There was no uptake difference detected by FDG PET. Immunofluorescence staining confirmed the significant reduction in tumor HER-2 level upon 17-DMAG treatment.
Conclusion
The early response to anti-Hsp90 therapy was successfully monitored by quantitative PET using 64Cu-DOTA-trastuzumab. This approach may be valuable in monitoring the therapeutic response in HER-2-positive cancer patients under 17-DMAG treatment.