01.11.2010 | Genetics | Ausgabe 11/2010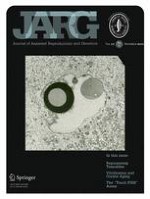 Monozygotic twins with discordant karyotypes following preimplantation genetic screening and single embryo transfer: case report
Zeitschrift:
Autoren:

Gabriela Tauwinklova, Renata Gaillyova, Pavel Travnik, Eva Oracova, Katerina Vesela, Lenka Hromadova, Jan Vesely, Petra Musilova, Jiri Rubes, Jitka Kadlecova, Iva Slamova, Eva Makaturova, Vladimira Vranova
Wichtige Hinweise
Capsule
We describe the case report of monozygotic monochorial diamniotic twins with discordant karyotypes following preimplantation genetic screening (PGS) and single embryo transfer. A proposition is made for the mechanism possibly involved in this case where an embryo is divided into twins.
Abstract
Purpose
To report a case of monozygotic monochorial diamniotic twins with discordant karyotypes.
Methods and results
The pregnancy was achieved following a treatment cycle with intracytoplasmic sperm injection (ICSI) and preimplantation genetic screening (PGS) for chromosomes X, Y, 13, 16, 18, 21, 22. One embryo euploid for studied chromosomes was transferred. Prenatal ultrasonography revealed monozygotic twins. One fetus had growth retardation, multiple organ abnormalities and polyhydramnion. The other twin had normal ultrasound appearance. Delivery on week 29 of gestation resulted in the birth of two females, a stillborn twin with karyotype 45,XX,-13[12]/46,XX,r(13)[3] and a healthy twin with normal karyotype.
Conclusions
The discordance in the twins' karyotypes originated from a mosaic embryo. Structural chromosomal abnormality of the affected twin could not be revealed using standard PGS investigation. Embryo splitting occurred probably due to apoptotic process in an early stage of embryo development. Apoptosis represents one of the possible mechanisms which can explain the embryo twinning process globally.