01.02.2013 | Review | Sonderheft 1/2013 Open Access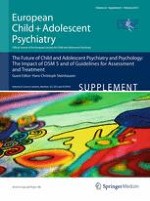 Mood dysregulation
Zeitschrift:
Autoren:

Nina Mikita, Argyris Stringaris
Abstract
The publication of the DSM-5 is nearing, yet a debate continues about the boundaries of bipolar disorder (BP) in children and adolescents. This article focuses on two key components of this debate that are often treated under the collective term mood dysregulation: the first is chronic irritability (and the proposed DSM-5 category of disruptive mood dysregulation disorder) and the other concerns short episodes of mania-like symptoms. We update our previous review [
Stringaris in Eur Child Adolesc Psychiatry 20(2):61–66, 2011
] and also present relevant neurobiological evidence. Most findings so far suggests that chronic, severe irritability is not a developmental presentation of mania. The diagnostic status of brief duration hypomania is less clear, with some evidence in support of its clinical relevance to BP. We end with recommendations for future research to inform classification and treatment.