12.08.2016 | Melanomas | Ausgabe 2/2017 Open Access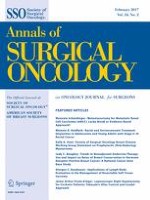 Morbidity After Inguinal Lymph Node Dissections: It Is Time for a Change
Zeitschrift:
Autoren:

MD Marloes Faut, MD Rianne M. Heidema, MD, PhD Harald J. Hoekstra, MD, PhD Robert J. van Ginkel, MD, PhD S. Lukas B. Been, MD, PhD Schelto Kruijff, MD, PhD Barbara L. van Leeuwen
Abstract
Background
Inguinal lymph node dissection (ILND) for stage 3 melanoma is accompanied by high wound complication rates. During the past decades, several changes in perioperative care have been instituted to decrease the incidence of these complications. This study aimed to evaluate the effect of these different care protocols on wound complications after ILND.
Methods
A retrospective analysis of prospectively collected data was performed with 240 patients who underwent an ILND in the University Medical Center Groningen between 1989 and 2014. Four groups with different treatment protocols were analyzed: A (≥10 days of bed rest with a Bohler Braun splint), B (10 days of bed rest without a splint), C (5 days of bed rest), and D (1 day of bed rest). The effect of early mobilization, abolishment of the Bohler Braun splint and postural restrictions, and the introduction of prophylactic antibiotics were analyzed.
Results
One or more wound complications occurred in 51.2 % of the patients including wound infection (29.8 %), seroma (21.5 %), wound necrosis (13.6 %), and hematoma (5 %). In consecutive periods, respectively 44.4, 60.3, 44.9 and 55.2 % of the patients experienced wound complications. None of the instituted changes in protocols led to a decrease in wound complications.
Conclusion
Changes in perioperative care protocols did not affect the rate of wound complications. Perhaps a change in the surgical procedure itself can lead to the necessary reduction of wound complications after ILND.