03.01.2019 | Review | Ausgabe 2/2019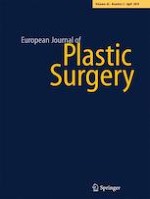 Morbidity of interventions in previously untreated Dupuytren disease: A systematic review
Zeitschrift:
Autoren:

Rachael Leung, Robert Capstick, Angela Lei, David Nour, Warren M. Rozen, David J. Hunter-Smith
Wichtige Hinweise
Rachael Leung and Robert Capstick contributed equally to this work.
Abstract
Treatment morbidity in previously untreated, or primary, Dupuytren disease has limited representation in the literature. Despite the clinical importance of stratifying risk of intervention based on treatment history, most articles addressing management complications pool both primary and recurrent disease. The aim of this systematic review was to quantify interventional morbidity in primary Dupuytren disease only and isolate the complication profiles of established interventions in previously untreated patients. A literature search was conducted using keywords on Medline and bibliographic linkage. Excluded papers did not address primary Dupuytren disease complications or did not include separate, primary-only complication data. Rates of morbidity were calculated from pooled data extracted from the included studies. Thirty-five papers met the criteria for inclusion. The review has quantified that open procedures carry higher complication rates than closed in the context of primary Dupuytren disease treatment. Amongst closed procedures, the only rate of skin split was high. It is noteworthy that this review has identified the limited isolated primary disease complication data available in the literature, which should prompt further targeted research. This systematic review addresses quantification of complication rates following treatment of primary Dupuytren disease and demonstrates that open interventions carry greater morbidity than closed. Whilst this study highlights the need for a future investigation, the complication data presented should nonetheless facilitate informed decision-making for clinicians and patients when considering initial treatments for primary Dupuytren disease.
Level of Evidence: Level IV, therapeutic study.