23.11.2016 | Original Article | Ausgabe 1/2017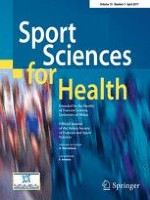 More gyms or more psychological support? Preventing burnout and supporting job satisfaction in physical education teachers
Zeitschrift:
Autoren:

Attilio Carraro, Erica Gobbi, Angelica Moè
Abstract
Purpose
Teachers' burnout affects the learning process and students' achievement and reduces job satisfaction. Physical education (PE) teachers represent a group at greater risk of burnout, in whom psychological and environmental aspects, such as not having appropriate school equipment and facilities, can represent risk factors. This cross-sectional study aimed to analyse the direct and the mediated effects of a range of psychological and environmental aspects as determinants of burnout and job satisfaction in PE teachers.
Methods
One hundred and eighty-three PE teachers participated in the study. They filled out a booklet of questionnaires to assess self-efficacy, enjoyment of physical activity, job satisfaction, burnout, mastery and performance goals, and the perceived quality of school facilities.
Results
Correlation analyses showed negative relationships between burnout dimensions and job satisfaction. Burnout mediated the relationships between mastery goals, self-efficacy, enjoyment, and job satisfaction, while the perceived quality of school facilities had just a direct effect on burnout.
Conclusions
To increase job satisfaction and decrease burnout in PE teachers it seems more effective to act mainly on psychological factors rather than on providing better facilities.