01.12.2014 | CARDIOVASCULAR DISEASE | Ausgabe 12/2014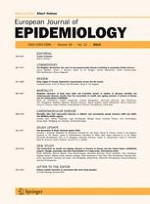 Mortality after first myocardial infarction in diabetic and non-diabetic people between 1985 and 2009. The MONICA/KORA registry
Zeitschrift:
Autoren:

Andrea Icks, Heiner Claessen, Inge Kirchberger, Margit Heier, Annette Peters, Ines Trentinaglia, Guido Giani, Wolfgang von Scheidt, Christa Meisinger
Wichtige Hinweise
Andrea Icks and Heiner Claessen have contributed equally to this work.
Abstract
The aim of the study was to analyse mortality after a first myocardial infarction (MI) and its trends in people with diabetes compared to those without diabetes in Southern Germany, 1985–2009. Using data of the population-based MONICA/KORA Myocardial Infarction Registry, we ascertained all patients with a first fatal or non-fatal MI between 1985 and 2009 (n = 16,478, age 25–74 years, 71 % male, 29 % with diabetes). The impact of diabetes and calendar time on mortality was examined using multiple logistic and Cox regression. Survival improved with calendar time: The crude cumulative 5-year survival was 26.9 and 46.3 % among diabetic and non-diabetic individuals (both sexes combined) with a first MI in the years 1985–1989, and 53.6 and 66.6 % among those with a first MI in the years 2005–2009. This significant decrease of mortality was confirmed in multivariate analyses. The proportion of fatal first MIs was significantly higher in diabetic compared to non-diabetic patients [adjusted odds ratio (OR) 1.26; 95 % confidence interval 1.17–1.36]. This association persisted in a similar manner between both sexes with no consistent change of OR over calendar time in which first MIs have been observed. Likewise, multiple adjusted risk of death after a non-fatal first MI was significantly higher among both diabetic men and women [hazard ratio (HR) 1.64; 1.47–1.82, 1.83; 1.55–2.14] with constant HR over calendar time. During the past 25 years, survival has improved in both diabetic and non-diabetic patients with incident MI in a similar manner. However, mortality after a first MI remained significantly higher in the diabetic population, particularly in women.