25.07.2017 | Original Communication | Ausgabe 9/2017 Open Access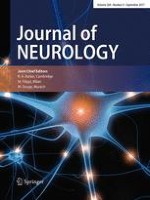 Mortality after primary intracerebral hemorrhage in relation to post-stroke seizures
Zeitschrift:
Autoren:

Danny Claessens, Kim Bekelaar, Floris H. B. M. Schreuder, Bianca T. A. de Greef, Mariëlle C. G. Vlooswijk, Julie Staals, Robert J. van Oostenbrugge, Rob P. W. Rouhl
Wichtige Hinweise
Danny Claessens and Kim Bekelaar contributed equally to the manuscript.
Abstract
Seizures after intracerebral hemorrhage are repeatedly seen. Whether the development of seizures after intracerebral hemorrhage affects survival in the long term is unknown. This study aims to determine the relation between seizures (i.e., with and without anti-epileptic therapy) and long-term mortality risk in a large patient population with intracerebral hemorrhage. We retrospectively included patients with a non-traumatic ICH in all three hospitals in the South Limburg region in the Netherlands between January 1st 2004 and December 31st 2009, and we assessed all-cause mortality until March 14th 2016. Patient who did not survive the first seven days after intracerebral hemorrhage were excluded from analyses. We used Cox multivariate analyses to determine independent predictors of mortality. Of 1214 patients, 783 hemorrhagic stroke patients fulfilled the inclusion criteria, amongst whom 37 (4.7%) patients developed early seizures (within 7 days after hemorrhage) and 77 (9.8%) developed late seizures (more than 7 days after hemorrhage). Seizure development was not significantly related to mortality risk after correction for conventional vascular risk factors and hemorrhage severity. However, we found a small but independent relation between the use of anti-epileptic drugs and a lower long-term mortality (HR = 0.32, 95% CI 0.11–0.91). In our large population, seizures and epilepsy did not relate independently to an increased mortality risk after hemorrhage.