01.12.2012 | Research article | Ausgabe 1/2012 Open Access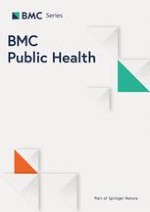 Mortality among adults: gender and socioeconomic differences in a Brazilian city
Zeitschrift:
Autoren:

Ana Paula Belon, Marilisa BA Barros, Letícia Marín-León
Wichtige Hinweise
Ana Paula Belon, Marilisa BA Barros and Letícia Marín-León contributed equally to this work.
Competing interests
The authors declare that they have no competing interests.
Authors' contributions
All authors have made substantial contributions to conception of this study and to analysis and interpretation of data. All authors read and approved the final manuscript.
Background
Therefore, this study aims to identify the magnitude of social inequalities in mortality, among adult residents in a large Brazilian city in the period 2004-2008.
Methods
A descriptive ecological study of mortality indicators stratified by socioeconomic status was conducted in the city of Campinas in the period 2004-2008. Campinas is an industrial city with a population of over one million inhabitants located in the State of São Paulo, which is the wealthiest state in Brazil.
Social differences in mortality were analysed using an ecological approach. To provide better health assistance to the population, the total area of Campinas was divided by the Municipal Health Department (MHD) into 49 health care unit areas, which are used as the analysis units of this study. The population size of these areas ranges from 2924 to 69 155, with a median of 19 010. Population size, socioeconomic variables, and the number of deaths for the coverage areas of the 49 primary health care units of Campinas were provided by the MHD. Because population and socioeconomic data from the Brazilian 2000 Census were provided by census tract, the MHD identified the census units that correspond to each of the 49 health care unit areas using geocoding techniques.
The socioeconomic strata were determined by the head of each household's educational attainment and income levels. Two education indicators were defined: proportion of heads of household with (1) less than one year and (2) more than 10 years of schooling. The monthly income indicators were: proportion of heads of household (1) earning less than two minimum wages, and (2) earning equal to or more than 10 minimum wages. These four indicators were chosen because they demonstrate a strong discriminatory capacity compared with other indicators. The 49 health care unit areas were ranked according to each indicator. The ranking always ranged from the worst to the best socioeconomic condition, assigning the first position to the most socio-economically vulnerable area. The average position of the four indicators determined the overall score of each area, which in turn established a hierarchical classification according to socioeconomic status. The 49 health care unit areas were divided into low, middle and high socioeconomic strata. Following the ranking, approximately one-third of the total population was represented in each stratum by adding up the population of each area until around 33.3% of Campinas population was obtained.
For the year 2006, the population projections of the 49 health care unit areas were calculated by the MHD using the Aibi method [
22
]. This method allows projected population calculations of small areas based on the population growth trend of the total area where they are located.
Deaths were categorized by strata based on usual residence in a particular area defined from the address. The analyses focused only on people aged 20 or older, because for the majority of selected specific diseases (with the exception of prostate cancer), deaths only occurred beyond this age. Mortality data were classified by ICD-10 codes (International Classification of Diseases, 10th revision).
All mortality rates for the population aged 20 years or older were calculated by sex and for each socioeconomic stratum, using average deaths over the period 2004-2008 and 2006 population data. Cause-specific and overall mortality rates were age-adjusted by direct method using the 2000 Campinas total population age structure as the standard. Specific rates for 10-year age groups (except for the last open-interval age group) were also estimated.
Mortality rates were estimated for the five main groups of causes of death. The following ICD-10 chapters were analysed for both sexes: malignant neoplasms (chapter 2), circulatory diseases (chapter 9), respiratory diseases (chapter 10), digestive diseases (chapter 11), and external causes (chapter 20). Cause-specific mortality rates were estimated for those underlying causes of death with at least 60 cases in each sex. This cut-off point was used to enable a minimum number of deaths for comparison among strata, preventing random fluctuations in mortality rates caused by small numbers of deaths. Among the male population the following causes of death were included: acute myocardial infarction (I21), cerebrovascular diseases (I60-I69), pneumonia (J12-J18), lower chronic respiratory diseases (J40-J47), traffic accidents (V01-V89), homicide (X85-Y09), stomach cancer (C16), lung cancer (C33-C34) and prostate cancer (C61). Prostate cancer was not observed among men younger than 40 years in our sample, therefore data of this cancer was restricted to men aged 40 years and older. Among females, malignant breast cancer (C50), acute myocardial infarction (I21), cerebrovascular diseases (I60-I69), pneumonia (J12-J18), and lower chronic respiratory diseases (J40-J47) were analysed.
The Armitage method [
23
] was used to estimate 95% confidence intervals for the mortality rate ratios (RR) of the low and middle socioeconomic strata, using the high stratum rates as reference.
As all data used in the present study are openly available from government websites, ethical clearance was not necessary.
Results
Discussion
The analysis of mortality rates in Campinas stratified by socioeconomic strata revealed that the highest mortality rates were concentrated in areas with poor living conditions. This study also identified the causes of death and age groups with large mortality differences between strata for each sex.
We hypothesize that this phenomenon is the result of an interaction between gender roles and socioeconomic status. Female lifestyles are more conducive to good health, which explain low mortality rates in all socioeconomic strata. However, it is well known that poor people face barriers to access to health services, for example, no health insurance, difficulties paying medical bills, excessive waiting time in public clinics and hospitals, and long waiting lists for specialised care and diagnostic and therapeutic support services. Higher-income women can take advantage of private medical services. These factors, in addition to poor quality health care, may widen the social differences in mortality among women. On the other hand, gender-role socialization encourages males to adopt behaviours more injurious to health, which are disseminated among all socioeconomic groups. Consequently, although men experience higher mortality rates than women, the socioeconomic differences in male mortality are smaller.
Regarding methodological limitations of this study, it can be argued that by using the primary health care area as the unit of analysis, the results cannot be attributed to individuals. Since the mortality rates refer to the average of each stratum, the respective residents are not exposed to the same mortality risks. Considering the lack of updated demographic and socioeconomic data for the general population, the 2000 Census variables were used to define the socioeconomic strata. Thus, possible changes in the socioeconomic sphere may have occurred over time. Another limitation regarding the use of primary health care areas is that they may contain some internal heterogeneity, despite the strata's relatively homogeneous makeup.
However, the strength of this methodological approach is its adequacy for the demands of health administration for the assessment, surveillance, and implementation of policies and programs. In addition, it is worth noting the high quality of mortality data in Campinas, with a proportion of deaths assigned to ill-defined causes of less than 3%. Mortality estimates by strata were not underestimated, since only 1.4% of deaths occurring between 2004 and 2008 in Campinas could not be assigned to a specific health care unit area.
Conclusions
The socioeconomic disparities within the city of Campinas have led to an uneven distribution of mortality rates, with gaps of different magnitude according to sex, age, and cause of death. The identification of mortality differences among social groups is extremely useful to the health sector agenda, because municipal governments can respond appropriately to the specific needs of each region, and thus contribute to a reduction in social inequalities in mortality.
Nevertheless, interventions should not be restricted to the health field, but should also encompass other sectors of the public sphere. For instance, in the struggle against social inequalities in mortality from external causes, it is crucial that there be cooperation between public security organizations and public health agencies in the implementation of effective activities, by paying particular attention to the poor areas.
Evidently, reducing inequalities in living conditions should be the main goal to improve health conditions and to narrow social disparities in mortality. Social policies designed to reduce the social gap among population groups will have positive impacts on health conditions, and are an important strategy for the assurance of better health conditions among the general population.
In conclusion, given that social inequalities in mortality rates are an expression of the local socioeconomic situation, socioeconomic indicators can assist in planning programs designed to promote improvement in living conditions and to ensure access to quality health care, thus achieving equity in health conditions in the future.
Acknowledgements
We are grateful to the Brazilian agencies CNPq and CAPES for their financial support.
We thank Dr. Maria Cristina Restitutti (Municipal Health Department) for her careful work with geographic information systems (GIS) to identify the census units that correspond to the health care unit areas. We also thank Dr. Solange Duarte de Mattos Almeida (Municipal Health Department) for her dedication to the mortality database to increase its feasibility.
This article is published under license to BioMed Central Ltd. This is an Open Access article distributed under the terms of the Creative Commons Attribution License (
http://​creativecommons.​org/​licenses/​by/​2.​0
), which permits unrestricted use, distribution, and reproduction in any medium, provided the original work is properly cited.
Competing interests
The authors declare that they have no competing interests.
Authors' contributions
All authors have made substantial contributions to conception of this study and to analysis and interpretation of data. All authors read and approved the final manuscript.