01.12.2012 | Methodology | Ausgabe 1/2012 Open Access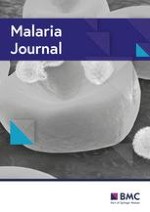 Mosquito bisection as a variable in estimates of PCR-derived malaria sporozoite rates
Zeitschrift:
Autoren:

Desmond H Foley, Genelle Harrison, Jittawadee R Murphy, Megan Dowler, Leopoldo M Rueda, Richard C Wilkerson
Wichtige Hinweise
Electronic supplementary material
The online version of this article (doi:
10.​1186/​1475-2875-11-145
) contains supplementary material, which is available to authorized users.
Competing interests
The authors declare that they have no competing interests.
Authors' contributions
DF conceived, designed and coordinated the study, bisected the specimens, and drafted the manuscript, GH conducted the PCR and DNA sequencing, and helped draft the manuscript, JM coordinated delivery of specimens, and helped draft the manuscript, MD reared the specimens, and helped draft the manuscript, LR helped draft the manuscript, RW helped draft the manuscript, All authors read and approved the final manuscript.
Abstract
Background
Highly sensitive polymerase chain reaction (PCR) methods offer an alternative to the light microscopy examination of mosquito salivary glands for the determination of malaria sporozoite rates in wild caught female
Anopheles
. Removal of mosquito abdomens is assumed to eliminate false positives caused by malaria oocyst DNA in the midgut. This assumption has not been tested with current gold standard PCR assays, and for the variety of conditions that specimens could encounter in the laboratory and field.
Methods
Laboratory
Anopheles stephensi
were used that had been infected with
Plasmodium falciparum
6–7 days and 14 days post infection (p.i.), when oocysts only and oocysts + sporozoites, respectively, are developed. Mosquitoes were killed and immediately frozen, air dried before being frozen, or stored under humid conditions overnight before being frozen, to simulate a range of conditions in the field. Additionally, abdomens were removed anterior to, at, or posterior to the junction of the abdomen and thorax, and both portions were processed using a standard nested PCR of the small sub-unit nuclear ribosomal genes (
ssrDNA
) with products visualized on agarose gels.
Results
Overall, 4.1 % (4/97) of head + thorax samples that were 6–7 days p.i. gave apparent false positives for sporozoites, compared to 9.3 % (9/97) that were positive for abdomens. No positives (0/52) were obtained when similar specimens were bisected anterior to the junction of the thorax and abdomen, compared to 21.2 % (11/52) that were positive for posterior portions. Multiple bands were noted for positives from the 'Frozen' treatment and the rate of false negatives due to DNA degradation appears higher under the 'Humid' treatment. Reproducibility of results for the 'Frozen' treatment was 90 %.
Conclusions
Despite the importance of specimen condition and the bisection step in determining sporozoite rates, little attention has been paid to them in the literature. Recommendations from this study are that: 1) care needs to be taken to reduce DNA degradation in the field; 2) mosquito abdomens be separated anterior to the junction of the thorax and abdomen; and 3) DNA sequencing of a subsample of positive results should be undertaken if possible.