01.02.2013 | Original Article | Ausgabe 1/2013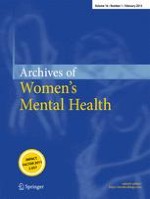 Mother–infant bonding impairment across the first 6 months postpartum: the primacy of psychopathology in women with childhood abuse and neglect histories
Zeitschrift:
Autoren:

Maria Muzik, Erika London Bocknek, Amanda Broderick, Patricia Richardson, Katherine L. Rosenblum, Kelsie Thelen, Julia S. Seng
Abstract
Our goal was to examine the trajectory of bonding impairment across the first 6 months postpartum in the context of maternal risk, including maternal history of childhood abuse and neglect and postpartum psychopathology, and to test the association between self-reported bonding impairment and observed positive parenting behaviors. In a sample of women with childhood abuse and neglect histories (CA+,
n
 = 97) and a healthy control comparison group (CA−,
n
 = 53), participants completed questionnaires related to bonding with their infants at 6 weeks, 4 months, and 6 months postpartum and psychopathology at 6 months postpartum. In addition, during a 6-month postpartum home visit, mothers and infants participated in a dyadic play interaction subsequently coded for positive parenting behaviors by blinded coders. We found that all women, independent of risk status, increased in bonding with their infant over the first 6 months postpartum; however, women with postpartum psychopathology (depression and posttraumatic stress disorder [PTSD]) showed consistently greater bonding impairment scores at all timepoints. Moreover, we found that, at the 6-month assessment, bonding impairment and observed parenting behaviors were significantly associated. These results highlight the adverse effects of maternal postpartum depression and PTSD on mother–infant bonding in early postpartum in women with child abuse and neglect histories. These findings also shed light on the critical need for early detection and effective treatment of postpartum mental illness in order to prevent problematic parenting and the development of disturbed mother–infant relationships. Results support the use of the Postpartum Bonding Questionnaire as a tool to assess parenting quality by its demonstrated association with observed parenting behaviors.