01.12.2019 | Research article | Ausgabe 1/2019 Open Access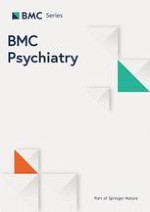 Mothers with and without bipolar disorder and their infants: group differences in mother-infant interaction patterns at three months postpartum
Zeitschrift:
Autoren:

Teija M. S. Anke, Kari Slinning, Vibeke Moe, Cathrine Brunborg, Torill S. Siqveland, Dag Vegard Skjelstad
Wichtige Hinweise
Supplementary information
Publisher's Note
Springer Nature remains neutral with regard to jurisdictional claims in published maps and institutional affiliations.
Abstract
Background
Women with bipolar disorder (BD) have a high risk of illness relapse postpartum. The risk coincides with the period when mother-infant interactions are evolving. We compared mother-infant interactions in dyads where the mothers have BD with dyads where the mothers have no mental disorder. The association between concurrent affective symptoms of BD mothers and interaction quality was investigated.
Methods
Twenty-six women with BD and 30 comparison women with infants were included. The Parent-Child Early Relational Assessment (PCERA) was used to assess maternal behaviour, infant behaviour and dyadic coordination in interactions at 3 months postpartum. The Inventory of Depressive Symptomatology and Young Mania Rating Scale were used to assess affective symptoms of BD mothers at the time of interaction.
Results
There were significant group differences with medium to large effect sizes (0.73–1.32) on five of six subscales within the three interactional domains. Most interactional concerns were identified in dyadic coordination. No significant associations were found between maternal symptom load and interaction quality within the BD sample. Forty-six percent of the BD mothers experienced a mood episode within 0–3 months postpartum.
Conclusions
The present study identified challenges for mothers with BD and their infants in "finding" each other in interaction at 3 months postpartum. If sustained, this interaction pattern may have a long-term impact on children's development. We suggest interventions specifically focusing on sensitising and supporting mothers to read infants' cues on a micro-level. This may help them to respond contingently and improve dyadic coordination and synchronicity.