21.07.2020 | Original Article | Ausgabe 12/2020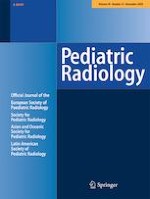 Motion-corrected cardiac MRI is associated with decreased anesthesia exposure in children
Zeitschrift:
Autoren:

Adam B. Christopher, Rachel E. Quinn, Sara Zoulfagharian, Andrew J. Matisoff, Russell R. Cross, Hui Xue, Adrienne Campbell-Washburn, Laura J. Olivieri
Wichtige Hinweise
Publisher's note
Springer Nature remains neutral with regard to jurisdictional claims in published maps and institutional affiliations.
Abstract
Background
The benefits of cardiac magnetic resonance imaging (MRI) in the pediatric population must be balanced with the risk and cost of anesthesia. Segmented imaging using multiple averages attempts to avoid breath-holds requiring general anesthesia; however, cardiorespiratory artifacts and prolonged scan times limit its use. Thus, breath-held imaging with general anesthesia is used in many pediatric centers. The advent of free-breathing, motion-corrected (MOCO) cines by real-time re-binned reconstruction offers reduced anesthesia exposure without compromising image quality.
Objective
This study evaluates sedation utilization in our pediatric cardiac MR practice before and after clinical introduction of free-breathing MOCO imaging for cine and late gadolinium enhancement.
Materials and methods
In a retrospective study, patients referred for a clinical cardiac MR who would typically be offered sedation for their scan (
n
=295) were identified and divided into two eras, those scanned before the introduction of MOCO cine and late gadolinium enhancement sequences and those scanned following their introduction. Anesthesia use was compared across eras and disease-specific cohorts.
Results
The incidence of non-sedation studies performed in children nearly tripled following the introduction of MOCO imaging (25% [pre-MOCO] to 69% [post-MOCO],
P
<0.01), with the greatest effect in patients with simple congenital heart disease. Eleven percent of the post-MOCO cohort comprised infants younger than 3 months of age who could forgo sedation with the combination of MOCO imaging and a "feed-and-bundle" positioning technique.
Conclusion
Implementation of cardiac MR with MOCO cine and late gadolinium enhancement imaging in a pediatric population is associated with significantly decreased sedation utilization.