01.12.2017 | Case report | Ausgabe 1/2017 Open Access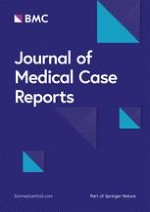 Motorbike-handlebar hernia - a rare traumatic abdominal wall hernia: a case report and review of the literature
Zeitschrift:
Autoren:

Frank-Leonel Tianyi, Valirie Ndip Agbor, Tsi Njim
Background
Acute abdominal wall hernias caused by traumatic forces are very rare [
1
,
2
]. Handlebar hernias are a more localized type of traumatic abdominal wall hernias, caused by direct trauma from handlebar-like objects [
3
–
7
]. They were first described by Landry
et al
. in 1956 [
3
] and are very rare. A MEDLINE search via PubMed using keywords "handlebar hernia" and "traumatic abdominal wall hernias" revealed 37 case reports on handlebar hernias with none from sub-Saharan Africa. The management involves prompt surgical repair to prevent incarceration or strangulation [
8
]. We report a case of handlebar hernia in an African boy following a road traffic accident. We elucidate that a good history and physical examination in patients with similar mechanisms of injury could assist in a prompt diagnosis and management in the absence of other diagnostic tools in resource-limited settings.
Case presentation
An 8-year-old Cameroonian boy with no significant past history was brought to our emergency service following a road traffic accident. On crossing a road, he was knocked down by an oncoming motorbike weighing approximately 125 kg, medium sized, and traveling at moderate speed. The motorbike fell on the boy with the handlebar catching him in the abdomen as its rider lost control. He sustained a lesion to the head with no initial loss of consciousness. On arrival, he complained of pain in his head and a swelling in the left upper quadrant of his abdomen.
On examination, he was conscious, with a Glasgow coma score of 15/15, blood pressure of 119/83 mmHg, pulse of 90 beats per minute, respiratory rate of 18 breaths per minute, temperature of 37.3 °C; he was 96 cm tall and weighed 26 kg. There was a 2 cm laceration in the occipital region of his head, and a swelling in his left lumbar region with mild bruising of the overlying skin (Fig.
1
). The swelling was reducible and disappeared in the supine position. There was no guarding and no rebound tenderness. He had normal bowel sounds on auscultation and the rest of the examination was unremarkable.
×
A diagnosis of mild head injury and a handlebar hernia was made. After resuscitation, his scalp laceration was closed with a one point suture and he was programmed for surgery for the handlebar hernia the next day. A surgical exploration of the area showed a 7 cm laceration of his lateral abdominal wall (Fig.
2
), running from the external oblique aponeurosis through all the muscle layers to his peritoneum with loops of small bowel present in the opening. There was no blood or feces in the area immediately surrounding the lesion. Exploration of the bowel loops closest to the opening did not reveal signs of intra-abdominal injury. The abdominal wall defect was repaired in layers. The abdominal incision was closed in a standard manner. His postoperative period was uneventful. He was discharged on postoperative day 9 and scheduled 2 weeks later for a follow-up visit, but unfortunately was lost to follow-up.
×
Discussion
Conclusions
Handlebar hernias, although rare, should be suspected when patients present with an abdominal swelling following blunt abdominal trauma involving a handlebar-like object. In the absence of an ultrasound and computed tomography scan, a good history with a clear mechanism of injury and a physical examination are imperative for an early diagnosis. Management typically involves surgical intervention to prevent complications, but the timing and the surgical approach should be decided on a case-by-case basis.
Acknowledgements
We wish to thank our families for supporting us throughout our scientific and research endeavors.
Availability of data and materials
The datasets and images supporting the conclusion of this case report are included within the article.
Authors' contributions
FLT managed the patient, acquired the data, and wrote the initial manuscript. VNA acquired the data and revised the manuscript. TN critically revised the manuscript. All authors read and approved the final manuscript.
Competing interests
The authors declare that they have no competing interests.
Consent for publication
Written informed consent was obtained from the patient's legal guardians for publication of this case report and any accompanying images. A copy of the written consent is available for review by the Editor-in-Chief of this journal.
Ethics approval and consent to participate
Not applicable.
Open Access
This article is distributed under the terms of the Creative Commons Attribution 4.0 International License (
http://​creativecommons.​org/​licenses/​by/​4.​0/​
), which permits unrestricted use, distribution, and reproduction in any medium, provided you give appropriate credit to the original author(s) and the source, provide a link to the Creative Commons license, and indicate if changes were made. The Creative Commons Public Domain Dedication waiver (
http://​creativecommons.​org/​publicdomain/​zero/​1.​0/​
) applies to the data made available in this article, unless otherwise stated.